Comics / Manga / Yaoi Manga
Tomorrow's Ulterior Motives (Yaoi)
By Leroy Douresseaux
Jan 6, 2009 - 9:26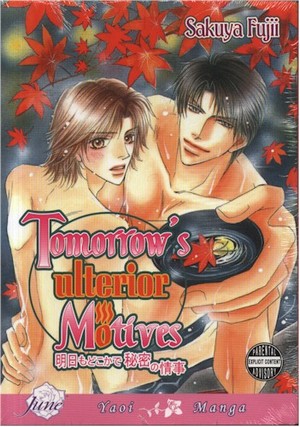 Tomorrow's Ulterior Motives cover image courtesy of Anime Castle Books.
Rated "M" for "Mature Audiences 18+"
Girl, there's some mess going on at that Saihou Theatre Company!
Hot young actor Makoto Aizawa has a hot boyfriend, Sanari Jounouchi, the top playwright and director at Saihou. Jounouchi has a reputation for wooing young actors, having torrid affairs with them, and then tossing them aside. Makoto wonders if he's the next "ex-boyfriend," but he's also got his mind on his career.
Taizou Oouchi, a former writer/director at Saihou who went independent, is staging a new musical for the theatre company. Oouchi, who is also an intense rival of Jounouchi, insists that Makoto have the lead in the musical, although the young star can't sing. Makoto works so hard at his singing lessons, but both Jounouchi and Oouchi have started acting stranger than normal. Jounouchi, who normally won't keep his hands off Makoto, now won't have sex with him, and Oouchi goes out of his way to disparage Makoto during rehearsals. Has Makoto found himself in the middle of their feud?
Tomorrow's Ulterior Motives, a yaoi manga by Sakuya Fujii, is a follow up to Fujii's Today's Ulterior Motives. The new book plays with two ideas. The first is that there is a "demon of the theatre," which is essentially a performer selling personal happiness in order to be granted skill, fame, and success. The second idea is that whenever people do something exceptionally special for someone else, they have ulterior motives.
Fujii really delves into the second idea more so than the first. Why? In terms of working with conflict, motivation, and character in romantic drama, using "ulterior motives" as a vehicle to drive the plot is more interesting to the manga-ka than ruminating on the cost of professional success to one's personal life. If it seems that the best parts of Tomorrow's Ulterior Motives involve getting an intimate look at the mental process behind all this backstabbing and scheming, it's because they are. Fujii also pours her creative heart into depicting how people conspire to have sex with their lovers and even the objects of their desires.
Still, Fujii missed an opportunity to look at the costs of success on personal relationships. Also, while Fujii's storytelling and composition is good, the drawing style is loose, a bit rough, and lacking the elegance for which the setting of Tomorrow's Ulterior Motives calls.
B
Last Updated: Jun 26, 2018 - 9:28