Tomie Complete Deluxe Edition manga review
By Leroy Douresseaux
December 26, 2016 - 23:05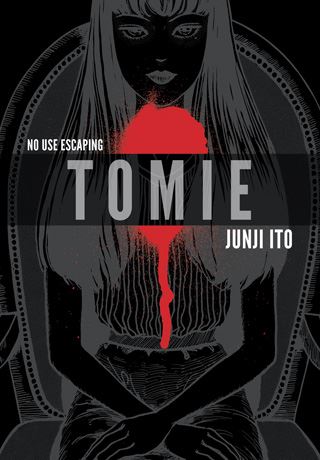 Tomie Complete Deluxe Edition cover edition
Rated "T+" for "Older Teen"
Tomie
is a horror manga written and drawn by
Junji Ito
(the creator of the the acclaimed dark fantasy and horror manga, Uzumaki). Tomie was Ito's first published work and was published in Monthly Halloween (where it was originally submitted) and later in Nemuki from 1987 to 2000. The manga centers on the titular character, a beautiful, but supernaturally dangerous young woman named Tomie.
Dark Horse Comics last published Tomie in English a decade ago as Museum of Terror. Now, VIZ Media has returned Tomie to print in
Tomie: Complete Deluxe Edition
. This special, over-sized manga (5.7 x 8.4) hardcover was released under the VIZ Signature imprint December 20, 2016. It has a suggested reader rating of 'T+' for Older Teens and a print MSRP of $34.99 U.S. / $46.99 CAN.
In Tomie, Junji Ito introduces Tomie Kawakami, who seems to be of high school age. She is a femme fatale with long black hair and a beauty mark just under her left eye. Tomie can seduce nearly any man, and after she has them in her thrall, she drives these men to murder, even though the victim is often Tomie herself. The story is always the same; while one lover seeks to keep Tomie for himself, another lover grows terrified of this seemingly immortal succubus-like female. Soon, all her lovers come to realize that no matter how many times they kill her, the world will never be free of Tomie.
THE LOWDOWN:
As far as I am concerned, dear reader, Junji Ito is an undisputed master of horror comics and not just of horror manga. He truly deserves to be called a visionary as he has continually pushed the horror genre in provocative directions with works such as Uzumaki and Gyo also with the fantastic phantasms that are the short stories found in the collections known as Fragments of Horror.
The Tomie manga is highly effective, shockingly so when one considers that it was the debut long form work of Ito. I think that readers will be delighted by the thoroughly mesmerizing Tomie and her unsettling, but engrossing reign of fright. I think that readers will be happy that this classic horror manga is collected in a high quality hardcover. If nothing else, you can use it to bash in Tomie's head, although you know the bitch will be back.
I READS YOU RECOMMENDS:
Anyone who has ever read and enjoyed work by Junji Ito or a horror comic will find joy in
Tomie Complete Deluxe Edition
.
A+
Rating: A+ /10
Last Updated: May 19, 2020 - 12:25