TOKYOPOP and GENTOSHA Comics Join Forces to Bring the World GRAVITATION EX
By Leroy Douresseaux
February 15, 2007 - 16:43
TOKYOPOP and GENTOSHA Comics Join Forces to Bring the World "Gravitation EX"
Sequel to the Best-selling Manga Series Receives Historic Simultaneous Worldwide Release
TOKYOPOP, the self-proclaimed leader of the "Global Manga Revolution," and Gentosha Comics, one of Japan's top manga publishers, have announced their partnership for the simultaneous worldwide release of Gravitation EX, the eagerly awaited sequel to Maki Murakami's bestselling cult-classic manga series, Gravitation. For the first time ever, a never-before-published manga of Japanese origin will be available on the same day at retail stores in North America, Europe and Japan.
The original Gravitation manga was published in 12 volumes from 1996 to 2002, and a 13-episode anime series aired in Japan from 2000 to 2001.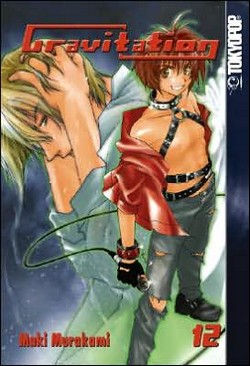 Cover of final issue of original Gravitation
According to TOKYOPOP Publisher Mike Kiley, "TOKYOPOP and Gentosha have entered into an exciting partnership to concurrently release Gravitation EX around the world, marking a momentous occasion in the continuing globalization of manga. Never before in manga publishing history has a multi-country synchronized release been executed."
Adds Gentosha Comics President Yoshihiko Ito, "We are very pleased to partner with TOKYOPOP for the worldwide release of Gravitation EX. We look forward to watching the successful launch of this property and are keeping our eye on future opportunities with TOKYOPOP!"
Hailed as the forerunner in the hugely popular shonen-ai (boys love) category, the Gravitation manga series boasts nearly half a million copies in print. A romantic comedy/drama about making it in the music industry, the popular series has spawned myriad fan collectibles including novels, soundtracks, pencil boards, calendars, phone cards, postcards, art books, anime and much more.
Readers of TOKYOPOP's popular 12-volume Gravitation manga series know that the story concluded more than a year and a half ago-with unanswered questions. Now, with the groundbreaking global release of Gravitation EX, the wait is over for readers around the world as the story continues. This all-new sequel picks up in Gravitation Ex, Vol. 1 right when lead characters Eiri Yuki and Shuichi Shindo step off the airplane in New York City. Yuki and his lover, Shuichi, vocalist of the band, Bad Luck, are visiting the grave of Yuki's first love and tormentor, Yuki Kitagawa. But once there, they make a startling discovery that will forever change their lives.
Gravitation EX will be available in stores worldwide in February 2007.

Last Updated: February 5, 2023 - 09:06