Tiger & Bunny: Volume 3 manga review
By Leroy Douresseaux
October 7, 2013 - 16:51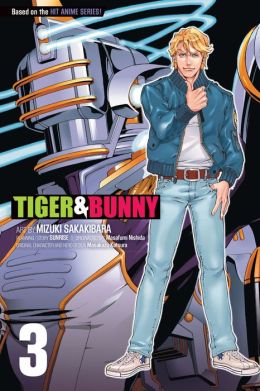 Tiger & Bunny Volume 3 cover image is courtesy of barnesandnoble.com.
Rated "T" for "Teen"
Based on the science fiction and superhero anime, Tiger & Bunny takes place in a world where 45 years earlier, super-powered humans, known as NEXT, started appearing. Some of them fight crime as superheroes in Sternbild City (or Stern Bild, a re-imagined version of New York City). They promote their corporate sponsors while appearing on the hit television show, Hero TV (or HERO TV). Each season, the superheroes compete to be named the "King of Heroes." But not all NEXT use their powers for good.
Tiger & Bunny, Vol. 3 (Chapters 10 to 13) opens with the stars of the story, Wild Tiger and Barnaby Brooks, Jr. Kotetsu T. Kaburagi (Wild Tiger) is a veteran superhero, but after his ratings kept declining, his new employer, Apollon Media, forced him to team-up with the newest NEXT sensation, Barnaby Brooks, Jr., the "Super Rookie," whom Tiger calls "Bunny."
Now, Tiger wants more me-time with Bunny. Meanwhile, Barnaby is looking for the man with the snake tattoo. The man and the tattoo are connected to Ouroboros, the shadowy organization that killed Barnaby's parents, Emily and Barnaby Brooks, Sr., two noted robot engineers. While Barnaby's investigation does yield a few clues, it also leads to a mecha attack.
THE LOWDOWN: From the first time I read the Tiger & Bunny manga, I really enjoyed it. Perhaps, you should take my review with a proverbial grain of salt (or some other seasoning), because I am a big fan of this series. Tiger & Bunny is an action-comedy about superheroes that does not mock superheroes; rather, it takes a humorous view of the life of superheroes and occasionally mocks the people, media, and corporations associated with these particular superheroes.
Tiger & Bunny Volume 3 delves into Barnaby/Bunny's past, but it also examines the conflict inherent in Barnaby and Kotetsu's relationship. This is still a good jumping-on point for new readers; at this point in the narrative, the storytellers are still clear about the who and the what. It is easy to figure out identity, and also, the conspiracy surrounding Barnaby's past is an interesting read.
POSSIBLE AUDIENCE: Readers looking for an excellent superhero comedy will find it in Tiger & Bunny.
Rating: A /10
Last Updated: August 31, 2023 - 08:12