Comics / Comic Reviews / Marvel Comics
Warren Ellis: Thunderbolts #112
By Leroy Douresseaux
June 4, 2007 - 14:44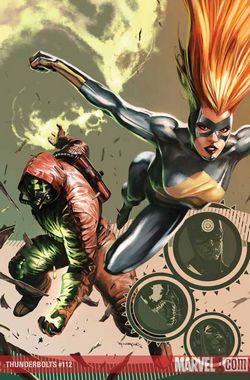 The cover sans lettering, blurbs, captions, etc.
THUNDERBOLTS #112
Post-Civil War Marvel Universe seems split down the middle between superheroes that have registered with the government (called the "Superhuman Registration Act") and superheroes that haven't. The government has cast the new Thunderbolts as hunters of unregistered superheroes operating in violation of the law. The new team like the old is composed of former super-villains. Old members of the Thunderbolts - Songbird, Radioactive Man, Swordsman, and Moonstone - are forced to adjust to such vicious new T-Bolts as Bullseye, Penance, and Venom.
Thunderbolts #112 ("Faith in Monsters" Part 3) finds the team facing their new director, Norman Osborn (formerly Spider-Man villain, Green Goblin) after botching their recent mission to apprehend a one-time Captain America ally named Jack Flag. Songbird thinks Moonstone is a bad leader (cat fight!), and Chinese national, Radioactive Man, wants a new costume. Meanwhile, an unregistered super offender is throwing down the gauntlet.
Is this the good stuff: Warren Ellis has made a point of reminding his readers that he wants to know who the artists are with which he'll be working so that he can write to their strengths. I'm not familiar with Mike Deodato's work, but the Ellis/Deodato team is in fine form. While the artist visualizes the script, Ellis uses dialogue to help define the plot and move the narrative, to shape and form the characters, and to create a specific mood or vibe for the story. He succeeds in making this an engaging, fun book about dangerous players in an even more dangerous time. Ellis also lands several sharp satirical jabs both at American society's culture of paranoia and at our anything-goes media culture. From the socio-political viewpoint, his observations are dead-on.
On the other hand, Deodato fills each panel with big bodies - characters that crowd space, which suggests the unrestrained and dangerous powers of the T-Bolts. There's a panel at the top of one page featuring Bullseye that seems as if it can barely hold this madman whose homicidal tendencies are a force of nature. The reader can certainly get the idea that if this lunatic breaks free, he's going to unleash a hurricane-like killing spree.
For those who enjoyed: Warren Ellis fans should dig this, especially people who enjoyed his take on superheroes going back to DV8, StormWatch, and The Authority. Readers who want a hardcore Direct Market superhero book that is both exceptionally different and really good will find it here.
A-
Last Updated: September 6, 2021 - 08:15