Comics / Manga / Yaoi Manga
The World's Greatest First Love: Volume 4 yaoi manga
By Leroy Douresseaux
March 11, 2016 - 21:13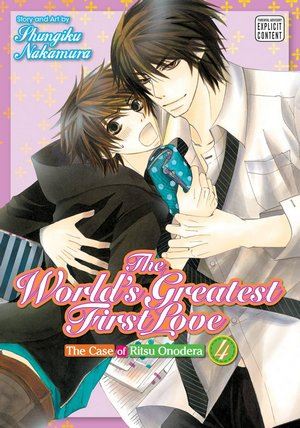 The World's Greatest First Love Volume 4 cover image
Rated "M" for "Mature"
According to SuBLime Manga, one of the titles that readers have most requested for an English release is
The World's Greatest First Love
, a yaoi manga from renowned creator
Shungiku Nakamura
. Yaoi manga is a subset of boys' love (or BL) manga, which depicts amorous situations between male romantic leads. Yaoi features explicit depictions of sex between those leads.
Looking for a fresh start, 25-year-old
Ritsu Onodera
changes jobs and lands at
Marukawa Publishing
. He becomes an editor for the shojo manga magazine, "
Emerald
." Things should be looking up, but Ritsu's new boss is
Masamune Takano
. When he was 15, Ritsu was madly in love with Takano, but now he wants to leave that all in the past, although Takano seems determined that they have a future.
As
The World's Greatest First Love: The Case of Ritsu Onodera

, Vol. 4
(Chapter 6 to 7.5) opens, the editorial staff of Emerald races to finish the next issue. The looming Christmas holidays have pushed up the normal deadlines, and Ritsu is having trouble with a tardy mangaka. Ritsu also cannot wait to get away from his boss and former lover, Takano, to whom he recently gave up the booty. It just so happens that Takano's birthday is soon, and Ritsu frets over whether or not he should acknowledge it. Takano however has plans for a romantic drive... with Ritsu.
[This volume includes Chapter 7.5 and "The Case of Shota Kisa."]
THE LOWDOWN:
I have to admit that
The World's Greatest First Love
manga has an advantage with me. I automatically give at least a little favor to manga that are about making manga or are set in the world of manga publishing.
The World's Greatest First Love
has one more advantage, and that is the fact that its workplace setting is a shojo manga editorial office. I do like my shojo manga (comics for teen girls).
The World's Greatest First Love: The Case of Ritsu Onodera Volume 4
is the first volume of this series that I have read (thanks to a review copy from SuBLime). That was not a problem for me, as I did not have trouble figuring out the rather straight-forward central plot and obvious obstacle facing the leads. This is not one of those moody romantic drama yaoi manga .
This is a romantic comedy in which the lead (Ritsu Onodera) is a screwy blonde, and the pursuer (Masamune Takano) is tall, dark, and handsome. Takano is the seme (top) who is determined to get what he wants, which is Ritsu, the uke (bottom) who eventually submits to his lover. I don't know where this series is going; the star couple does have some issues to resolve. Creator Shungiku Nakamura makes you want to keep reading.
POSSIBLE AUDIENCE:
Fans of boys' love manga will want to try
The World's Greatest First Love: The Case of Ritsu Onodera
.
B+
Last Updated: September 6, 2021 - 08:15