Comics / Manga / Yaoi Manga
The Way to Heaven (Yaoi)
By Leroy Douresseaux
Mar 31, 2009 - 16:00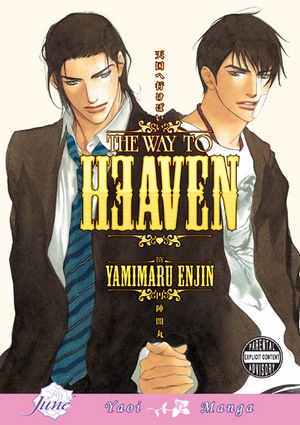 The Way to Heaven cover image.
Rated "M" for "Mature Audiences 18+"
The lives of former boxer, Keigo Moriya, and former yakuza, Kifumi Watase, are united in the yaoi manga, The Way to Heaven, from creator Yamimaru Enjin.
In one life-shattering moment, Watase tries to keep Moriya from falling off the edge of a busy freeway overpass, but fate has something different in mind, as both men plunge to their deaths. They are rescued from "ground zero," the bloody spot on the freeway where they died, by a mysterious alien woman. She has imprisoned the two in a parallel world that is almost like our own, yet completely different.
The woman demands that Moriya and Watase help her extract "human energy" as part of an experiment, or she'll return them to "ground zero." After giving in to her demands, the two young men discover that they can travel through time in their new world. Watase sometimes helps Moriya gather energy, and Moriya begins to hope that the two will become closer, perhaps, even intimate. However, Watase focuses on using their time-traveling in order to save the life of his murdered friend, a former yakuza named Kazuhiro Akutsu, a plot into which Moriya finds himself drawn.
The Way to Heaven is more philosophical than sexual, and much of the sex is grungy and actually not sexy, at all. The story has only a few moments of genuinely engaging drama, but most of the time, creator Yamimaru Enjin is meanders through a narrative. Her concept gives her plenty with which to experiment and to create a rich graphic novel, but she doesn't reach. The Way to Heaven isn't philosophical so much as it is stuck in a mental rut. Enjin could have told the same story as a short story, and it would have had the same meaning as it does as a longer story. Call The Way to Heaven a way to missed opportunity.
C

www.digitalmanga.com
www.akadot.com
Shop for Yaoi Delights.
Last Updated: Jun 26, 2018 - 9:28