Comics / Comic Reviews / More Comics
The Walking Dead: The Official Magazine #1
By Leroy Douresseaux
October 22, 2012 - 14:17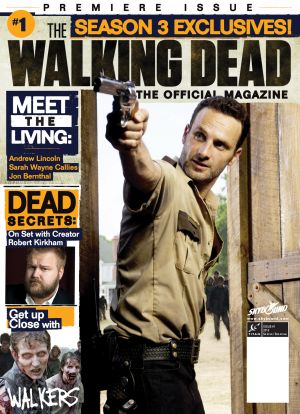 Image of The Walking Dead: The Official Magazine #1 subscription cover
First, there was a comic book. Then, there was a television series. Now, there is The Walking Dead: The Official Magazine.
The Walking Dead is a black and white comic book series written by Robert Kirkman (and created with artist Tony Moore). The series has been published since its first issue by Image Comics and has been drawn, since its seventh issue, by artist Charlie Adlard. The comic book, which follows humans trying to survive a zombie apocalypse, just saw publication of issue #103 (as of this writing).
In 2010, a television series, "The Walking Dead," based on the comic book, debuted on cable television channel, AMC. The Golden Globe Award-nominated series recently began its third season. The Walking Dead has also spawned merchandise such as video games, novels, apparel, (including Halloween costumes), action figures, toy lines, etc.
Like other genre media franchises (Star Wars, Star Trek), The Walking Dead has its own magazine. The Walking Dead: The Official Magazine #1 (November/December 2012) is now walking to newsstands and into mailboxes.
I must admit that I've never read a single issue of The Walking Dead comic book, although I've been meaning to since it first debuted. I watched the TV series' debut episode, but I've only sporadically watched it since then. But The Walking Dead: The Official Magazine has my back. It is designed and produced not only to inform fans, but also to guide fresh newbie meat into the world of The Walking Dead.
The Walking Dead: The Official Magazine covers everything about The Walking Dead – comics, prose fiction, merchandise, and, of course, the TV series. That includes an interview with Glen Mazzara, the showrunner of AMC's The Walking Dead. Mazzara even explains what a showrunner does (basically the day to day administration of the production). There is also an interview with the host of "Talking Dead," Chris Hardwick.
"Choice Cuts," one of what will be several regular features in the magazine, looks at Michonne, a hugely-popular character since her debut in the comic book. There is also an interview with Danai Gurira, the actress who portrays Michonne on the TV series. We learn, for instance, that Gurira is an award-winning playwright.
Do I have to tell you that there is a Robert Kirkman interview? There is a synopsis of the comic book from issue #1 to #100 and a preview of the TV series' Season Three. Read the exclusive Walking Dead short story, "Just Another Day at the Office." Learn about series artist Charlie Adlard and see the variant covers of The Walking Dead #100, including art from Bryan Hitch, Todd McFarlane, Ryan Ottley, Sean Phillips, Frank Quitely, Matthew Roberts, and Marc Silvestri.
There is so much more. And it's good. Why be objective? The Walking Dead: The Official Magazine is awesome.
Rating: 9.5 /10
Last Updated: February 5, 2023 - 09:06