Comics / Comic Reviews / More Comics
The Vault #2
By Leroy Douresseaux
October 27, 2011 - 14:35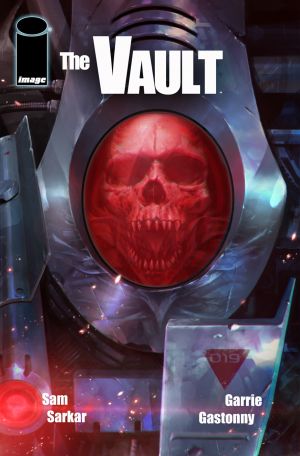 The Vault #2 cover image
Written by Sam Sarkar and drawn by Garrie Gastonny, The Vault is a three-issue miniseries from Image Comics. The story focuses on a small team of treasure hunters struggling to excavate a dangerous treasure pit before a massive storm arrives. Nothing can prepare these people for what they are about to unleash.
Archeologists and treasure hunters, Dr. Gabrielle Parker and Dr. Michael Page, seek to unlock the secrets of the treasure pit at Sable Island, known as the "Graveyard of the North Atlantic." Their team has found something extraordinary.
As The Vault #2 opens, a hurricane bears down on the island. Inside the base, the team squabbles over what to do with the large stone sarcophagus they found in the treasure pit. Should they open it now or wait until they are at a facility better equipped to handle this delicate discovery, as Gabrielle wants? Inside the sarcophagus is a skeleton of something that looks human, but is clearly not.
THE LOWDOWN: Well, the first issue was not a fluke. The Vault is an absolutely riveting suspense thriller because this second issue does not let up on the mystery and still offers a thick atmosphere of impending doom. Think of this as Raiders of the Lost Ark meets The Abyss meets The Mummy (1999).
POSSIBLE AUDIENCE: Readers looking for adventure and suspense thrillers will want The Vault.
A-
Last Updated: September 6, 2021 - 08:15