Comics / Comic Reviews / More Comics
The Strain #10 comics review
By Leroy Douresseaux
May 29, 2013 - 17:24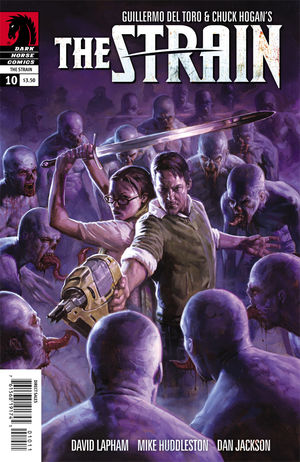 The Strain #10 cover image
Part 10: "Lair"
We've reached the penultimate issue of The Strain, the 11-issue comic book adaptation of Guillermo del Toro and Chuck Hogan's 2009 novel, The Strain. The comic book series is scripted by David Lapham, drawn by Mike Huddleston, colored by Dan Jackson, and lettered by Clem Robins.
The story follows Dr. Ephraim "Eph" Goodweather, head the CDC's Canary Project, and his second-in-command, Nora Martinez. A Boeing 777 lands at J.F.K. International Airport in New York City with everyone aboard dead, except for three individuals. That is the launching point for a virus spreading across Manhattan and out into the larger city. Professor Abraham Setrakian, an aging Holocaust survivor, forces Eph and Nora to accept that a host parasite is turning people into vampires. But will anyone else listen?
As The Strain #10 begins, it's finally been said out loud – that word "vampire." Meanwhile, Eldritch Palmer, CEO of the Stoneheart Group, plots to come out on top of the spreading chaos.
Rat control dude, Vasiliy Fet, joins Eph, Nora, and the Professor, as they prepare to enter the vampires' lair. Before they can enter the nest, however, they have to deal with some of Eph's domestic issues. The story returns to Gus, the Latino wrongly jailed early in the epidemic, who also finds himself dealing with family problems. Both Eph and Gus will discover that family drama doesn't get any crazier than what they're facing.
THE LOWDOWN: Welcome to the second-to-last issue of The Strain. The Strain #10 bears a resemblance to that kind of second-to-last day of civilization tale found in films like Dawn of the Dead (original and remake), Resident Evil: Apocalypse, 28 Months Later, and The Stand television miniseries. As in George A. Romero's Land of the Dead, some rich guy is sitting back, ready to reap some rewards in the aftermath.
There are several scenes featuring exciting confrontations in this issue, one that readers who have followed the series for the duration have been anticipating. Still, over 220 pages of goodness, these confrontations are only small parts in an excellent series.
POSSIBLE AUDIENCE: If you love horror comic books, you may want to catch The Strain.
Rating: 9.5 /10
Last Updated: September 6, 2021 - 08:15