Comics / Comic Reviews / More Comics
The Strain #9 comics review
By Leroy Douresseaux
May 28, 2013 - 12:40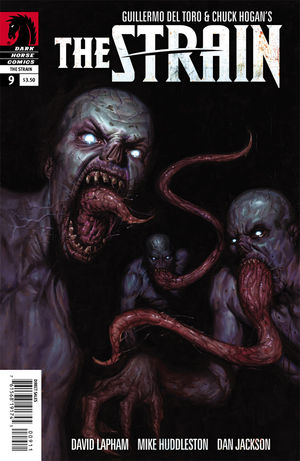 The Strain #9 cover image
Part 9
Filmmaker Guillermo del Toro is a director known for his Hellboy movies and the Oscar-winning Pan's Labyrinth. Novelist Chuck Hogan wrote the award-winning Prince of Thieves, which was adapted into Ben Affleck's Oscar-nominated, 2010 film, The Town.
Dark Horse Comics' The Strain is an 11-issue comic book adaptation of del Toro and Hogan's 2009 novel, The Strain. The comic book is scripted by David Lapham, drawn by Mike Huddleston, colored by Dan Jackson, and lettered by Clem Robins.
Dr. Ephraim "Eph" Goodweather heads the CDC's Canary Project, a rapid-response team that investigates biological threats. Eph and his second-in-command, Nora Martinez, begin pursuing a mysterious viral strain at J.F.K. International Airport in New York City, after a Boeing 777 goes dead silent upon landing. Almost all the passengers and crew are dead, but the survivors are host to a parasite that starts a vampiric epidemic spreading across Manhattan. Only an aging vampire hunter, Professor Abraham Setrakian, knows what is really happening, but will anyone listen?
As The Strain #9 begins, Matt, the new husband of Kelly, Eph's ex-wife, gets his comeuppance for not heeding his predecessor's warnings. Eph, Martinez, and the Professor visit the home of Ann-Marie Barbour and her husband, Ansel, who was one the Boeing 777 survivors. Plus, the adventures of exterminator Vasiliy Fet continue.
THE LOWDOWN: With this ninth issue of The Strain, it is official (if it wasn't already) that writer David Lapham and artist Mike Huddleston form a "two-handed engine." Their work is a seamless whole, and, as a horror comic book series, their production is a whole lotta good.
Adapting a novel that switches between scenes, subplots, and characters can be daunting (I imagine), but Lapham and Huddleston have created a rhythm that works. They leave one scene for another in a way that makes me miss what I just left, but also be ready to jump into the current scene. The story does not seem like a collection of scenes.
I am having a blast reading this – as if you, dear reader, had not noticed.
POSSIBLE AUDIENCE: Fans of horror comic books looking for quality will want to catch The Strain.
Rating: 9 /10
Last Updated: September 6, 2021 - 08:15