The Story of Saiunkoku: Volume 8 manga review
By Leroy Douresseaux
October 5, 2012 - 12:04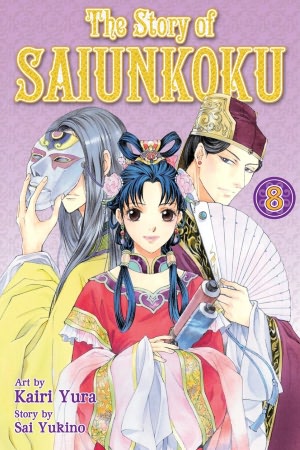 The Story of Saiunkoku Volume 8 cover image is courtesy of barnesandnoble.com.
Rated "T" for Teen
Shurei Hong was born into a noble, but destitute family. Her dream was to become a civil servant at the imperial court, but women are barred from holding office. Later, she went to the imperial court of Saiunkoku (a fictional empire) where she was dubbed "Lady Shurei," the tutor of Ryuki Shi, the young emperor who refused to take command. After teaching a young emperor to rule, Shurei passed the Imperial Civil Exam and became Saiunkoku's first female civil servant.
As The Story of Saiunkoku, Vol. 8 begins, the conspiracy against Shurei continues. Many do not want women working as civil servants. One amongst that lot leads a conspiracy that has falsely accused Shurei of cheating on the Imperial Exam taken by men who want to be civil servants. Shurei's young friend, Eigetsu Toh, also a civil servant, has been accused right along with her.
Now, the day of the public inquest has arrived, when Shurei and Eigetsu must defend themselves before the Emperor. Their opponents, however, are plotting to make sure they never arrive at the palace for the inquest.
THE LOWDOWN: Once again, I have barely touched upon all that is going on in the current volume of The Story of Saiunkoku manga. In addition to the "inquiry/inquest" plot, there are subplots featuring old acquaintances, fraud in the Ministry of Rites, and a big-huge announcement about Shurei and Eigetsu's future.
This is historical fiction, but something makes it solid. Whatever plot lines are introduced, they always lay the story groundwork for what is to come. That means The Story of Saiunkoku is rich with possibilities. Plus, artist Kairi Yura's work is beautiful.
POSSIBLE AUDIENCE: Readers who enjoy shojo historical fiction and romance will like The Story of Saiunkoku.
Rating: A- /10
Last Updated: August 31, 2023 - 08:12