Comics / Comic Reviews / More Comics
The Star Wars #2 comics review
By Leroy Douresseaux
Oct 1, 2013 - 11:11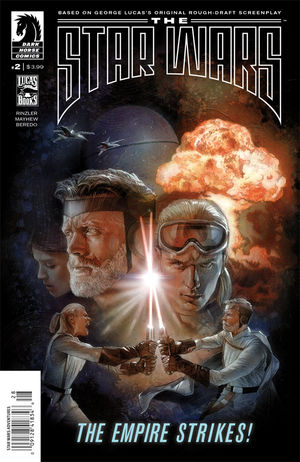 The Star Wars #2 cover - art by Nick Runge
The Star Wars is a new Star Wars comic book miniseries from Dark Horse Comics. This comic book is an adaptation of The Star Wars, a first rough-draft screenplay written by George Lucas in 1974. Lucas rewrote that screenplay until it became the blueprint for the legendary, Oscar-winning film, Star Wars.
The Star Wars the comic book is written by J.W. Rinzler and drawn by Mike Mayhew. The comic book opens after the recent "Great Rebellion," in which the Empire becomes the "New Galactic Empire." On the fourth moon of Utapau, Jedi Kane Starkiller lives with his two sons, Annikin and Deak. After Deak is killed, Kane and Annikin return to their homeworld, Aquilae. There, Kane convinces his old friend, Jedi General Luke Skywalker, to take Annikin as his apprentice, but the reunion is interrupted by a possible menace to Aquilae.
As The Star Wars #2, ("The Empire Strikes") opens, General Skywalker moves to protect Aquilae, but the Senate is reluctant to give him the authority to start a war. Meanwhile, Annikin begins his training and goes on his first mission for Skywalker.
THE LOWDOWN: The first issue of The Star Wars comic book relied on the revelation of the unknown or, at least, the largely unseen, to be exciting. This comic book visualization of Star Wars, early and in the raw, has a lot of appeal, but the novelty has worn off for me. With this second issue, it is time for the series to deliver on plot, character, and setting.
The plot is convoluted, at least as it is squeezed into 22 pages this second issue. I think Brian Michael Bendis could have taken just the events depicted in this one issue and turned it into at least a six issue miniseries, and the story would be the better for that. The characters lack personality; really, they're just players with little in the way of what one can call character. Also, there is such an emphasis on action that the story never really examines the exotic and far-flung settings.
Mike Mayhew's art and especially Rain Beredo's colors remain good reasons to keep reading. But for how long...
POSSIBLE AUDIENCE: Fans of Star Wars will definitely want to try The Star Wars.
Rating: 5 /10
Last Updated: Jun 26, 2018 - 9:28