Megan Kelso: The Squirrel Mother
By Leroy Douresseaux
April 2, 2007 - 12:52
As part of this site's focus on women creators during the month of April 2007, Mr. Charlie #113 looks at Megan Kelso's graphic short story collection, The Squirrel Mother. Ms. Kelso also took time out of her deadline crunch to answer a few questions about her new strip for The New York Times Magazine section:
CBB: What's the title of your strip for the NY Times Magazine? What's it about, and how long will it run?
KELSO: "Watergate Sue" is about a woman who is the mother of a small child who becomes obsessed with the Watergate scandal as it unfolds. It will run one page every Sunday for six months starting April 1.
CBB: Do you have any worries about presenting your work to what might be a largely new audience for you?
KELSO: I'm incredibly nervous about it. It has a potentially huge audience given how many people read the Times---but of course all those people probably won't actually read it. It's a weird feeling. When someone buys a book, they usually read the whole thing, but not so with a newspaper.
CBB: Other than the NYT strip, will you have more short stories published in the immediate future?
KELSO: Right now, I'm only working on the NYT project, and when I finish that, I'll get back to finishing Artichoke Tales, but I'm not sure right now when that book will come out. Hopefully some time in 2008.

THE SQUIRREL MOTHER
FANTAGRAPHICS BOOKS
CARTOONIST: Megan Kelso
ISBN: 9-781-56097-746-9; soft cover
152 pp., Color, $16.95
The Squirrel Mother is a collection of cartoon short stories (graphic short stories?) by cartoonist, mini-comics creator, and comic book self-publisher, Megan Kelso. The stories were published between 2000 and early 2006 in various publications. The stories focus on girls and young women, and most of them deal with themes of abandonment, creativity, expression, identity, and also body image issues.
They aren't tales of solitary people; Kelso delves into intricate interpersonal relationships that she sets in complex social situations, arguably the kind of settings mostly unfamiliar to American mainstream comics. Does that alone make the book automatically special? No, Kelso builds the success of The Squirrel Mother upon the execution of her scenarios.
In the title story, two single mothers struggle with their obligations to their children as these mothers dream of what could been in terms of their own personal enrichment and creative expression. More important than the simple outcome of this tale is Kelso's ability to visualize not just the characters, plot, and setting, but also the intricacies of the narrative: childhood ignorance and innocence, frustration and exhaustion, or the sometimes overwhelming weight that sits upon adult shoulders, slowly crushing the potential for personal happiness.
As one reviewer said, this is an understanding of visual metaphors, or even symbolism and allegory. It's the skill to accurately tell the story in pictures the way authors try to tell rich stories using words. Now, any storyteller knows (or should know) that his audience will take parts or the whole story and make it his own - often conflicting with the intentions of the storyteller. However, if the storyteller wants the audience to believe, feel, think, or know certain ideas, notions, or truths about the text, its up to her to clearly communicate that.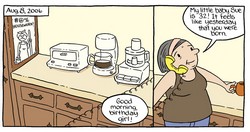 A sample from Watergate Sue
With Kelso, there are no tricks or cuteness. She knows that whatever we learn, we learn it by what we see on the page. Her work is honest, and though we might have to work to figure things out, we know that this is substance over style. Kelso's motivation is to tell stories and to communicate with her audience. For me, it's clear what Kelso's saying, for the most part, and I have at least a good idea of what she wants me to grasp.
In what I consider a bonus, there is a 17-page, three-story suite with Alexander Hamilton as the central figure. These stories succinctly get to the heart of our country's long-running feud between those who want a strong central government and those who believe in a union in which the states wield ultimate power. An entertaining, fresh, and lively view of history, this trio is just one more reason why The Squirrel Mother stands out as a remarkable short story collection.
The Squirrel Mother is available directly from the publisher's website, fantagraphics.com. It's also available from online booksellers (Barnes and Noble's website still lists it as available). And if your local comic shop and Diamond Distributors wanted to, they could get you a copy.
Visit Ms. Kelso at girlhero.com
I borrowed the sample image of Ms. Kelso's strip Watergate Sue from the Fantagraphics Blog: http://www.fantagraphics.com/blog/labels/New%20York%20Times.html. You can find the actual strip at http://www.nytimes.com/ref/magazine/funnypages.html but it the Times requires that you register before you view online articles for free.
Last Updated: September 6, 2021 - 08:15