Comics / Comic Reviews / More Comics
The Shadow: Year One #4 comics review
By Leroy Douresseaux
July 26, 2013 - 10:52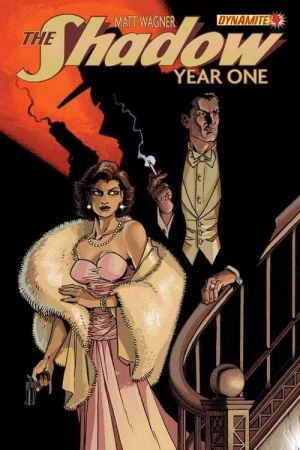 The Shadow: Year One #4 Cover A - art by Matt Wagner
Rated T+
Dynamite Entertainment has brought The Shadow, seminal old-time radio and pulp magazine vigilante and crime fighter, back to comic books. Dynamite's latest release featuring the dark avenger who knows what fear lurks in hearts of men is The Shadow: Year One.
Depicting the beginnings of The Shadow's campaign against crime, The Shadow: Year One is written by Matt Wagner and drawn by Wilfredo Torres. The adventure begins in Cambodia, 1929 and moves to New York City on October 30, 1929. That's when wealthy, world traveler and adventurer, Lamont Cranston, becomes The Shadow and begins a war on evil in America.
As The Shadow: Year One #4 opens, Guiseppe "Joe" Massaretti, top crime boss in New York City, forms some kind of union with the mysterious Dr. Zorn. Meanwhile, a young newspaper reporter finds that the closer he gets to Lamont Cranston, the farther away the hard-to-find millionaire seems to be.
After being saved from Carlo Luppino by The Shadow, insurance salesman, Claude Fellowes, learns the price he owes the dark avenger. At the same time, Lupino is the one who needs saving, as he goes on the run. Plus, in case she misunderstood, The Shadow informs Margo Lane what her relationship with Lamont Cranston will be.
THE LOWDOWN: I saw The Shadow: Year One #3 as an improvement over the first two issues of the miniseries because it emphasized confrontation and violence, rather than only talk and character development. I understand that, early on, writer Matt Wagner was trying to establish the plot, setting, and characters for the series. However, the series just did not seem like a story that deserved to run under the banner of The Shadow. It seemed as if the story were waiting for something to really happen.
Now, with this fourth issue, The Shadow: Year One offers the kind of explosive episode that deserves to be called The Shadow. The gamesmanship, the intrigue, the mystery and suspense; it's on now, baby! Oh, I mean… this is most excellent writing indeed.
I have had mixed feelings, to put it mildly, about the art by Wilfredo Torres, but he's hitting his stride at the midway point in the series. Now, Torres' art has a graphic sensibility that recalls Golden Age comic book art. It's a visual aesthetic similar to Paul Smith's art for The Golden Age, a 1990s DC Comics miniseries. Smith adapted his style in way that would recall Golden Age comic book art. Torres, in a similar fashion, is doing that with his art for this series, with increasingly good results.
POSSIBLE AUDIENCE: Fans of The Shadow will want to try The Shadow: Year One.
Rating: 9 /10
Last Updated: December 31, 2019 - 20:28