Comics / Comic Reviews / More Comics
The Shadow: Year One #3 comics review
By Leroy Douresseaux
May 30, 2013 - 12:27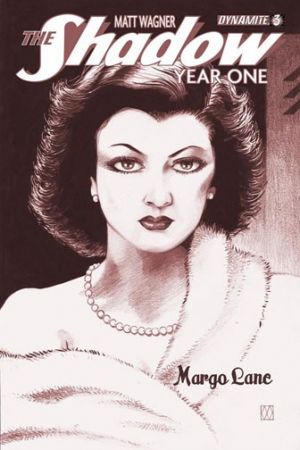 The Shadow Year One #3 Cover A image - art by Matt Wagner
Rated T+
The Shadow is back… in comic books, thanks to Dynamite Entertainment. Dynamite's latest release featuring the dark avenger who knows what fear lurks in hearts of men is The Shadow: Year One.
This new miniseries imagines the beginnings of The Shadow's campaign against crime and is written by Matt Wagner and drawn by Wilfredo Torres. The adventure begins in Cambodia, 1929 and moves to New York City on October 30, 1929. That's when wealthy, world traveler and adventurer, Lamont Cranston, becomes The Shadow and begins a war on evil in America.
As The Shadow: Year One #3 opens, an insurance broker named Fellowes is summoned before crime boss, Carlo Luppino, AKA "the Dandy Don." Luppino wants a new agent for his criminal enterprise, but The Shadow is also seeking agents. Meanwhile, after inviting herself into his home, Margo Lane confronts Lamont Cranston.
THE LOWDOWN: Because it emphasizes confrontation and violence (of course), The Shadow: Year One #3 is the best issue of the series since the first issue. In fact, this third issue is a big improvement over issue #2, which writer Matt Wagner used to establish what are likely to be the dominate plot lines of this miniseries. That was a dialogue-heavy issue, with an emphasis on establishing the personalities, conflicts, motivations, etc. of the cast – besides The Shadow. There is not a thing wrong with that; it simply came across as flat in its execution.
Issue #3, however, is about bad guys, the kind of fictional violent, remorseless killers that deserve to have the sword of justice brought down on them. Thank goodness that Matt Wagner finally, really unleashes The Shadow's pistols. Honestly, I didn't know that I was that crazy about cap-popping in comic books; after all, I haven't read The Punisher in years. Wagner also has some fun with the Lamont Cranston/Margo Lane dynamic; it's good to see them go at each other.
POSSIBLE AUDIENCE: Fans of The Shadow will want to try The Shadow: Year One.
Rating: 8.5 /10
Last Updated: September 6, 2021 - 08:15