The Record of a Fallen Vampire: Volume 3
By Leroy Douresseaux
November 10, 2008 - 14:23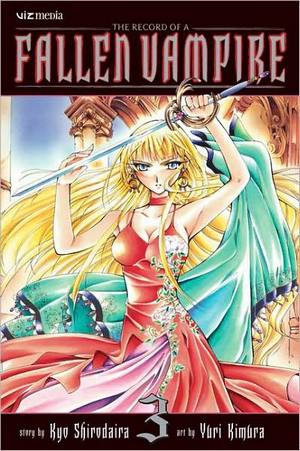 The Record of a Fallen Vampire 3 cover image is courtesy of barnesandnoble.com.
Rated "T" for "Teen"
Vampire King Akabara "Red Rose" Strauss lost both his sovereignty, The Kingdom of the Night, and his wife, Queen Adelheid, 1000 years ago. Akabara's enemies, dhampires (humans with vampire blood), entombed Adelheid behind an enchanted seal in a secret location and erected thousands of false seals to keep Akabara from finding Adelheid's true location. Akabara's quest has always been haunted by one incarnation or another of the Black Swan, his appointed assassin. Inhabiting the body of a young girl, a new Black Swan (the 50th) has come to kill Akabara.
In The Record of a Fallen Vampire, Vol. 3, secrets and lies come roaring forth on a river of half-truths. Is Strauss' quest really about love, or is it about revenge? Why is Gozen, the masked grandfather of Kayuki Hirasaka, the current Black Swan, so determined to assist Strauss in finding Adelheid entombed prison? Jin Renka, the lover of the 49th Black Swan (whom Strauss killed), also gets his rematch with Akabara Strauss, who is not at full power.
THE LOWDOWN: A wild, dark fantasy with stylish, awe-inspiring fight scenes, The Record of a Fallen Vampire enters a phase of strange plot twists and peculiar swings in mood. New players enter the vampire/dhampire feud, and comedy sits alongside conspiracy and treachery. Every time it seems as if Kyo Shirodaira's story has hit a dead end, he adds yet another peculiar, but entirely plausible scenario. This isn't just another vampire manga; it's a fantasy epic in which vampires seem like just another interest group. The art by Yuri Kimura seems entirely too elegant and beautiful for this violent story, but these pretty sexy players deserve to romp in lavishly drawn mansions and sleek cityscapes.
POSSIBLE AUDIENCE: Fans of vampire chic and crazy, sexy, cool vampires (Twilight, Underworld) will like this.
A-
Last Updated: September 6, 2021 - 08:15