Comics / Manga / Yaoi Manga
Youka Nitta's The Prime Minister's Secret Diplomacy (Yaoi)
By Leroy Douresseaux
Aug 14, 2008 - 14:32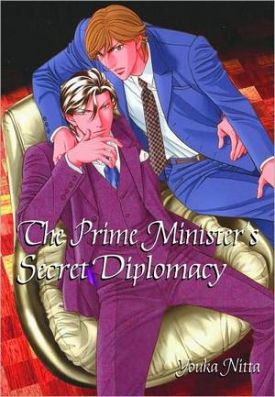 Thanks to barnesandnoble.com for the above cover image.
"18+ Mature Content"
Tomohiro Shiraishi's family connections earn him a post in the office of the Prime Minster of Japan to Thailand, Koushi Yoshinaga. Rumors swirl around the handsome Yoshinaga – that he can coax even the most stubborn politicians and diplomats to see things his way, but does his skills at political maneuvering extend past the office and into the bedroom?
When Shiraishi spots Yoshinaga kissing another man in a bar, he struggles with the terrible secret he must keep from Michiko, his sister and Yoshinaga's fiancé. Then, Yoshinaga goes to work on him.
THE LOWDOWN: Yaoi manga is a subset of BL or "boys' love" manga and features depictions of explicit sex between male lovers. The Prime Minister's Secret Diplomacy by Youka Nitta is not content with merely being a gorgeously drawn comic book featuring hot guys having hotter sex. Nitta actually writes scenes of diplomacy and international intrigue with dialogue that might impress John Le Carré, and then, moves onto battles of wits and foreplay without missing a bit. And the art is gorgeous; not only is the figure drawing good, but the sets and backgrounds are beautifully detailed with an almost photorealism.
POSSIBLE AUDIENCE: Manga-ka (creator) Youka Nitta's attention to detail, the production value of the art, and the narrative's convincing spin on family politics and international diplomacy make The Prime Minister's Secret Diplomacy a cut above most yaoi manga.
B+
Visit the Yaoi Store.
Last Updated: Jun 26, 2018 - 9:28