Comics / Manga / Yaoi Manga
The President's Time (Yaoi)
By Leroy Douresseaux
Jun 10, 2008 - 11:38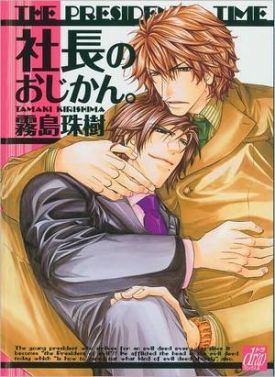 801 Media's English-language edition drops all the Japanese copy.
"18+ Mature Content"
Mitsuki Nagasawa's father, the fourth president for Biei Cosmetics since the Edo Period, died when Mitsuki was 17, so the teenager became the fifth president. His father's will stipulated that by his 27th birthday, Mitsuki must become an "evil president" or he will lose his title as CEO and President, no matter that he's made Biei the number one cosmetics brand in Japan or that he's even expanded and grown the company.
Standing in his way is the mysterious Makoto Torii, a young man Mitsuki meets while trying to do an "evil" deed. Makoto brings joy into Mitsuki's life, but he won't allow Mitsuki to be evil. When a relative shows up demanding everything Mitsuki has if he doesn't turn evil, Mitsuki may have to give up the new love of his life… and some great sex.
THE LOWDOWN: The premise of The President's Time by Tamaki Kirishima is quite silly – in order to remain the president of the family business, a young man has to be evil – literally, while his new lover is insistent that he be a good guy. What lifts The President's Time is not the quirky story, but the terrific supporting cast. Mitsuki and Makoto pretty much come across as standard leads for yaoi manga (boys' love comics which feature explicit sex between males), but the rest of the cast is quite lively.
Mitsuki's brother (Shizuka Nagasawa) should be jealous of his brother, but isn't; he's actually very supportive. The Nagasawa house servants and company employees are a spirited lot, ready to fight the evil uncle (a good stock villain). Makoto's two younger brothers make a nice comical duo and deserve their own series. Good characters can make for good comedy, and that's what happens here. If it weren't for The President's Time's really slow start, this would be great, but it's quite good as it is.
POSSIBLE AUDIENCE: Readers who want comedy in their yaoi will find it in The President's Time.
B+
Last Updated: Jun 26, 2018 - 9:28