The Official xxxHOLiC Guide
By Leroy Douresseaux
November 6, 2009 - 09:35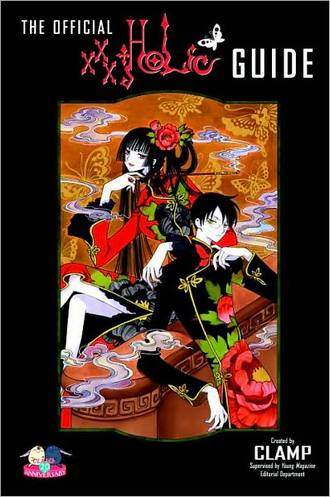 The Official xxxHOLiC Guide cover image is courtesy of barnesandnoble.com.
Rating "T Ages 13+"
xxxHOLiC is a seinen manga (comics for adult men) series created by the manga creative collective, CLAMP. A supernatural comedy, xxxHOLiC began publication in the Japanese manga magazine, Weekly Young Magazine, in 2003. In North America, Del Rey Manga publishes xxxHOLiC book collections.
xxxHOLiC is the story of a high school student named Kimihiro Watanuki, who is plagued by spirits called "yōkai." Invisible to others, the yōkai have a strong attraction to Watanuki, but he finds these encounters with the spirits troublesome. He turns to Yūko Ichihara, a powerful witch, to rid him of the spirits, but her help comes at a cross. Watanuki becomes a part-time employee for Yūko, running small errands, dealing with the supernatural, and performing household chores.
Del Rey Manga recently published an English edition of The Official xxxHOLiC Guide. The 200+ page book takes readers deep into the world of xxxHOLiC, offering information about the Japanese folklore behind this series and helping the readers learn how xxxHOLiC connects to other series by CLAMP, including Angelic Layer, Cardcaptor Sakura, Chobits, and Tsubasa: Reservoir Chronicle. There are the usual character and story details, readers polls, illustration galleries, and glossaries, and a creator interview with Tsubaki Nekoi of CLAMP.
More than being just another collection of miscellanea for hardcore fans, The Official xxxHOLiC Guide can be an actual guide for newcomers into the xxxHOLiC mythology and universe. After opening with a lavish gallery of full-color character illustrations, this book's text section begins with the 38-page "Story Digest." This section provides a synopsis of 20 storylines from the xxxHOLiC manga. Other than free books, what more could a new reader want than a detailed summary of the series.
A 28-page character guide/index follows, with two 8-page sections – one a glossary of terminology used in xxxHOLiC and another a tour of series locales. The back of the book has a section of hidden materials, which is really sketchbook material – some character sketches and a rough art version of a chapter from the manga.
I cannot help but declare The Official xxxHOLiC Guide a most useful source book.
A
Last Updated: August 31, 2023 - 08:12