The 9 Lives: Volume 1
By Leroy Douresseaux
Oct 18, 2008 - 13:43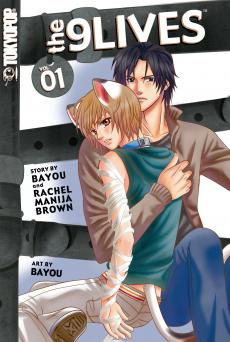 The cover for The 9 Lives.
Fantasy/Drama; Rated "T" for "Teen-Age 13+"
Alien refugees have come to earth. Calling themselves 9-Lives, they look like humans but have some of the physical and behavioral attributes of housecats. Humans call them "cat-boys" and force them to be pets – collar-wearing slaves.
In The 9 Lives, Vol. 1, Conri is a rebellious cat-boy, who refuses to be a pet/slave and wear collar, but that means he's always on the run from the Department of 9-Lives Control (DNLC). He finds himself rescued and given a home by a human named Adrian. Conri refuses to trust Adrian. He believes that humans and 9-Lives can never have friendships as equals, but can he and Adrian?
THE LOWDOWN: An OEL manga (original English language manga), The 9 Lives is probably the most teen-safe boys' love title currently in print. It's like a boys' love version of John Sayles cult 1980s film, The Brother from Another Planet. For all its sci-fi/dystopian trappings, The 9 Lives is a drama and romance, the story of the burgeoning love between two young men with little or nothing in common (or euphemistically, two boys from opposite sides of the track). The storytellers, scriptwriter Rachel Manija Brown and creator/artist Bayou (the pen name of Indonesian Ayuda Riadini), treat this love between their two male leads as if it were a perfectly normal thing in the world of The 9 Lives. The story certainly has a vibe that says romantic love between two men is also normal and acceptable (or should be) in our world.
As for the production and execution of the narrative, The 9 Lives has the feeling of being an indie graphic novel from two somewhat raw, but quite promising talents. It lacks the polish of a comic book produced by veteran creators, but is still engaging. Neither Bayou's original story nor Brown's script fixate on the sci-fi elements, but instead focus on character, and in Conri and Adrian, they've created two likeable and intriguing players. Bayou's sense of page layout, panel design, and composition is strong for someone doing her first extensive work in comic books. Her storytelling is even better and surprisingly sharp; rarely does she fail to convey what's happening in a particular scene or moment.
POSSIBLE AUDIENCE: Not sure how the publisher will sell this, but The 9 Lives is a boys' love comic book.
B+
Last Updated: Dec 19, 2017 - 22:52