Comics / Comic Reviews / DC Comics
Brian K. Vaughan: The Midnighter #7
By Leroy Douresseaux
May 4, 2007 - 8:59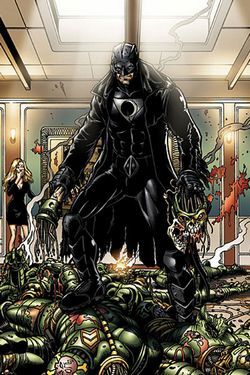 This issue's gruesome page 15 by Darick Robertson
Brian K. Vaughan (Ex Machina) drops in for a guest stint writing The Midnighter #7 and gives a unique perspective on Midnighter's powers. Entitled "Fait Accompli," the story finds Midnighter in Dubai to stop the United Arab Emirates from turning the world's oil supply into water. While he may stand in the way of the U.A.E.'s attempt to corner the world's oil market, a bad, bad, very bad girl and a squad of cybernetically enhanced goons stand in his way
Other than being "the most dangerous man in the Wildstorm Universe" (and perhaps the DCU?), Midnighter has special intuitive abilities. For instance, he can calculate over a million combat scenarios, so he can pretty much know how any given situation is going to end. In the tradition of classic one-off stories that focus on that something special about a character, Brian K. Vaughan places Midnighter in what seems to be a precarious combat situation, but because of his special powers, he knows exactly how the fight in Dubai is going to end.
The kicker: Vaughan basically tells the story backwards with the end being the first page. In fact, let me say "cheers" to Wildstorm for having a comic book in which page one features two men kissing quite romantically. However, to really enjoy "Fait Accompli," the reader has to start from the back and read it manga style. Vaughan doesn't necessarily bring anything new to the character, but this is a clever spin on the usual Midnighter story – him using ultra-violence to kick his adversaries around. Ultimately, the narrative structure Vaughan uses to tell this story epitomizes Midnighter's ability to predict any given situation to the nth degree.
Considering that Darick Robertson (Transmetropolitan) is the fill-in pencil artist and Vaughan's has a novel take on the Midnighter adventure, no one who has ever enjoyed Warren Ellis' run on StormWatch or read any books related to The Authority should miss this quintessential Midnighter comic book.
8/10
Last Updated: Jun 26, 2018 - 9:28