Comics / Manga / Yaoi Manga
The Man of Tango yaoi manga review
By Leroy Douresseaux
November 10, 2013 - 11:12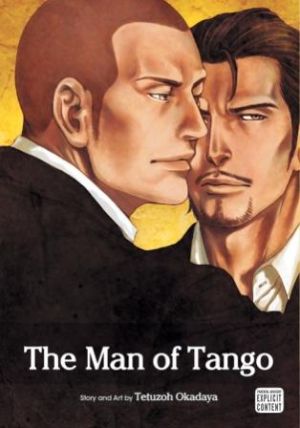 The Man of Tango cover image
Rated "M" for "Mature"
The Man of Tango is a book collection of the boys' love graphic novel, The Man of Tango, created by Tetuzoh Okadaya. This SuBLime Manga Edition of the book is a revised edition of Okadaya's debut manga volume. This new edition also collects two additional tales, one an alternate version of the story ("El hombre del tango") and the other an epilogue story ("Libertango").
As some of you know, boys' love (BL) is manga that depicts romantic relationships between men. Yaoi manga is a subset of BL and features explicit depictions of sex between men, which The Man from Tango does (and boy, does it ever!).
The Man from Tango introduces Angel "Angie" Almódovar, a Latin American living in Japan. Hailed as "the Man of Tango" because of his skills as a dancer, Angie believes that he has never truly felt the deep, fiery passion of the dance known as "tango." Then, Angie meets office worker, Hiromasa "Hiro" Koga, a half-Japanese, half-Latino who was born in Columbia, South America.
Angie is immediately attracted to Hiro; in fact, Angie feels seething lust for him. Hiro tells himself that he is in no way interested in men, but what will he do when he wakes up in Angie's bed? What will Hiro make of those memories of physical contact and passion that crowd his hung-over addled mind? Will he open his heart and his body to the persuasive dancer?
THE LOWDOWN: Perhaps, it's just me, but I find The Man of Tango manga to be a little on the melancholy side. There is plenty of humor, and the story occasionally brings friends of Angie and Hiro's into the narrative mix, such as Angie's dance partner, Benedict "Bene" Maria Cruz. That gives the story a feeling of camaraderie and fun.
There are sex scenes in the story, and they can run for several pages. They put the "yowza" in yaoi. In fact, The Man of Tango does not come across as boys' love, so much as it seems to be a gay comic. Angie and Hiro are both so fit, so buff, and so butch that their physical intimacy has a pound-your-ass quality to it. You can call it lovemaking, but it may be more accurate to use that "F" word for sex to describe it.
I think the melancholy comes from the darkness of Hiro's past and the tragic fate of one of Angie and Hiro's friends. Plus, there is a flash-forward short story that looks at the characters a little too far into the future for my tastes. Still, in the world of yaoi manga, The Man of Tango is definitely something different simply because there seems to be a realness about Angie and Hiro's relationship that much of BL does not have.
THE LOWDOWN: Boys' love readers looking for a different kind of thing will want to dance with The Man of Tango.
Rating: B+ /10
Last Updated: September 6, 2021 - 08:15