Comics / Comic Reviews / More Comics
The Last Days of American Crime #1
By Leroy Douresseaux
January 9, 2010 - 14:43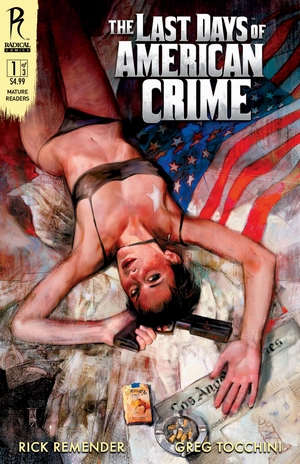 The Last Days of American Crime #1 Alex Maleev cover
In the three-issue comic book series, The Last Days of American Crime, from creator/writer Rick Remender (Fear Agent) and artist Greg Tocchini (1602: New World), two big things are about to happen in the United States of America. First, the government is going to send out a mind-altering signal called the American Peace Initiative, which will make it impossible for anyone to knowingly commit any crime. Second, the government is moving the entire economy from one based on paper currency to one based on a Federal charge card (called the Fiduciary Charge Card).
In The Last Days of American Crime #1, 50-something petty thief and security guard, Graham Brick plots to steal one of the Federal charge card machines for himself before they go online and before the A.I.P. is activated – in two weeks. He recruits two partners – Kevin Cash, an acerbic safecracker, and Shelby Dupree, his girlfriend who handles the "computer stuff." Their heist almost seems like a sure thing, but each of the three has secrets and his or her own poisonous agenda. What will they do when new players enter their game?
THE LOWDOWN: Would you be surprised if I said that The Last Days of American Crime is fairly predictable, as far as crime fiction goes? Probably not, but like Criminal, 100 Bullets, and 5 Shots, American Crime offers a twist, a turn, a surprise, or a reinvention that makes you turn the page, and then, turn the next, and the next until you're hooked. Writer Rick Remender will feed you this story as if he wants to be your number one pusher, and you'll surely become addicted.
Artist Greg Tocchini captures this series' near-future crisis vibe and recaptures the stark cleanness of film noir. His best accomplishment here is that practically every panel in this first issue has a since of action or movement that stands alone, without having to join another panel to create a since of advancement. It is this quirky sense of design and eclectic storytelling that makes The Last Days of American Crime comics eye candy.
POSSIBLE AUDIENCE: Crime fiction fans will want The Last Days of American Crime.
A-
Last Updated: September 6, 2021 - 08:15