The Last Airbender
By Leroy Douresseaux
June 25, 2010 - 10:13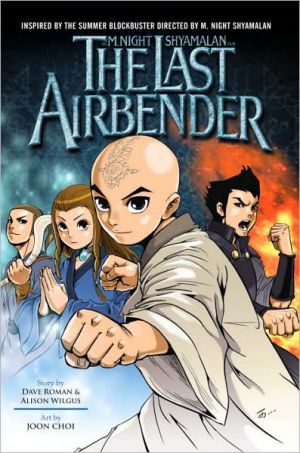 The Last Airbender cover image is courtesy of barnesandnoble.com.
Rating "Y Ages 10+"
Avatar: The Last Airbender
was an animated series that first ran on Nickelodeon from 2005 to 2008. Filmmaker M. Night Shyamalan (
The Sixth Sense
) has written and directed a movie adaptation of the series, entitled
The Last Airbender
, which will soon hit movie screens. Del Rey Manga is producing OEL manga (original English language) tie-ins to the upcoming movie. One of them,
The Last Airbender
, is the comic book adaptation of Shyamalan's film.
The Last Airbender
takes place in a world divided between four nations: Air, Earth, Fire, and Water.
Fire Nation
has destroyed the harmonious balance among the four nations. These dire times are just when the
Avatar
, the master of all four elements, is expected to bring balance to the world, but he has been missing for a century.
Then, teenaged siblings,
Katara
and her brother,
Sokka
of the
Southern Water Tribe
, rescue a boy frozen in a sphere of ice. The boy, named
Aang
, is indeed the long-lost Avatar and the last airbender. Katara and Sokka must help Aang, whose training was not completed a hundred years ago, master the four elements in order to fulfill his destiny. But the Fire Nation and a determined prince of that nation stalks their every move.
THE LOWDOWN:
As they did with the earlier release,
The Last Airbender: Prequel: Zuko's Story
, writers
Dave Roman
and
Alison Wilgus
have scripted another engaging manga for young readers. The story starts slowly, but gradually builds to a crescendo – in the form of a massive invasion fleet attacking a good guy outpost. Artist
Joon Choi
has a clean cartoony drawing style, which makes for easy-to-read and decipher graphic storytelling. In fact, the manner in which Choi draws this manga makes it just look inviting and fun to read.
POSSIBLE AUDIENCE:
Young readers will like
The Last Airbender
, especially those familiar with Avatar: The Last Airbender.
B+
Last Updated: August 31, 2023 - 08:12