The Earl and the Fairy: Volume 4 manga review
By Leroy Douresseaux
December 14, 2012 - 14:50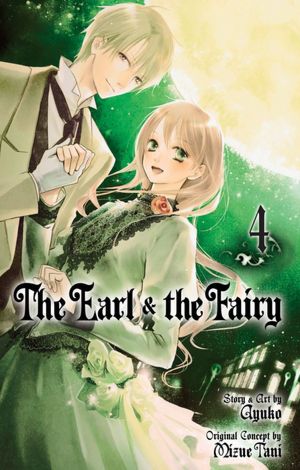 The Earl and the Fairy: Volume 4 cover image is courtesy of barnesandnoble.com.
Rated "T" for "Teen"
Lydia Carlton, a young woman living in 19th century England, is a fairy doctor. She is a specialist who can see and talk to fairies, an ability which allows her to resolve problems (or attempt to) between fairies and humans. During a trip to London to visit her father, Lydia faces an attack by kidnappers, but a young man named Edgar Ashenbert rescues her. A nobleman sold into slavery, Edgar is also tied to the Fairy Realm as the Blue Knight Earl.
The Earl and the Fairy, Vol. 4 is the final volumes of the series. As the story continues, Lydia is trapped in an isolated warehouse – imprisoned there by her rival, Rosalie. But Lydia has found the missing young woman, Lady Doris Walpole, who is Rosalie's cousin. Lydia makes a bid for freedom, but falls into the trap of the sly Bogey-beast.
Now, Lydia's fate is left up to her fairy sidekick, the fussy Nico, and Edgar Ashenbert. Edgar has his own problems – a face off with Lord Graham, who is a one-man criminal conspiracy, from extortion to slavery. Edgar will have to deal with his past if he is to save Lydia, win her hand, and rescue her from The Fogman.
THE LOWDOWN: In my review of the third volume of The Earl and the Fairy manga, I wrote that it seem tailored-made for my reading tastes, and I'm sure of it, now. The series is a manga adaptation of The Earl and the Fairy, a series of fantasy novels written by Japanese author, Mizue Tani.
Now, that the series has ended, I am surprised to find myself a little upset that it is over. I will miss the London setting and the fog that plays such a big part in the series. There is more to say about Lydia and Edgar and what seems to be a promising practice as a fairy doctor. The series is ending, but it is not too late to find all four volumes.
POSSIBLE AUDIENCE: Readers who like gothic fiction and fairies will like the Shojo Beat title, The Earl and the Fairy.
Rating: A /10
Last Updated: August 31, 2023 - 08:12