Comics / Comic Reviews / More Comics
The Black Beetle: No Way Out #4 Advanced comics review
By Leroy Douresseaux
June 9, 2013 - 16:48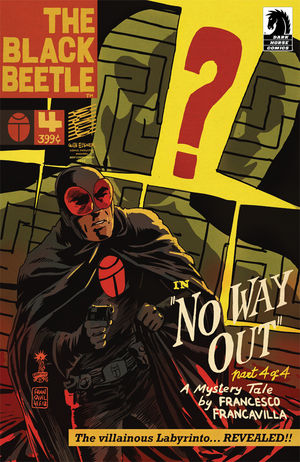 The Black Beetle: Now Way Out #4 cover image
"No Way Out" (Part 4 of 4)
The Black Beetle is a comic book character created by artist Francesco Francavilla. The Black Beetle, a blend of the aesthetics of pulp fiction, mystery, and the superhero, is a super-heroic sleuth, operating in Colt City. His first miniseries/story arc, No Way Out, comes to an end.
The Black Beetle attempted to infiltrate a meeting of Colt City's two crime families, the Galazzos and the Fierros. Shortly after he arrives at Spencer's, the site of the meeting, the place goes up in a tremendous explosion – killing everyone inside. Determined to discover who came between him and bringing these gangsters to justice, the Black Beetle meets a wily adversary, the enigmatic Labyrinto.
The Black Beetle: No Way Out #4 opens as our hero races to Camp Creek. This woodland estate is where he will find Joseph "Joe" Fierro, A.K.A. "Faccia D'Angelo," once thought to have been killed at Spencer's, but who is actually alive. Camp Creek is also where The Black Beetle plans to have his final showdown with Labyrinto, whom he plans to take care of once and for all.
THE LOWDOWN: The thing about mystery fiction is that sometimes getting to the conclusion or answer or discovering whodunit is the best part. The resolution, or discovering of who the villain is, can be a little bit of a letdown, especially when what came before it is exceptionally good.
Everything leading up to The Black Beetle: No Way Out #4 was so good. While this last issue is good, it does not reach the heights of what came before it. I thought that a villain such as Labyrinto deserved a more potent last act than what we get here (although this might not be the last time we see him). The reveal and resolution are somewhat disappointing.
As for the art and graphical storytelling: both are still visually striking and pop on the page. I could not help but linger over certain pages, just to enjoy the beauty of Francavilla's art. I'm ready for The Black Beetle's return this fall.
POSSIBLE AUDIENCE: Readers looking for pure pop comics will find it in The Black Beetle: No Way Out.
http://pulpsunday.blogspot.com/
Rating: 9 /10
Last Updated: January 24, 2022 - 11:00