Comics / Comic Reviews / More Comics
The Black Bat #1 comics review
By Leroy Douresseaux
June 20, 2013 - 16:31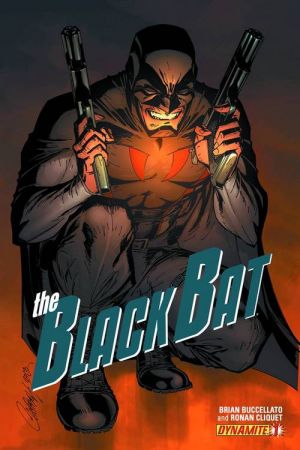 The Black Bat #1 Cover A image - art by J. Scott Campbell
Rated T+
Yes, dear reader, you have noticed that this review of the first issue of The Black Bat comes weeks after I reviewed The Black Bat #2. This is due merely to a misunderstanding, and I can't imagine that this is a big deal. In fact, jumbling up the numbering order may be an interesting way to review serial narratives.
Anyway, "The Black Bat," was a character that first appeared in Black Bat Detective Mysteries back in the 1930s. The character apparently influenced the creation of The Batman (to some extent), as well as a second version of The Black Bat. Dynamite Entertainment has brought him back from the public domain comic book graveyard in a new comic book series.
The Black Bat #1 opens with the Black Bat kicking ass. He's looking for Silk, a police snitch who will become his assistant. The story also goes into flashback mode in order to take a look at the man who would become the Black Bat, Tony Quinn. He was a brash defense attorney for the mob who compromised his ethics for financial gain. It cost him a lot, but now as the Black Bat he can seek redemption… or vengeance?
THE LOWDOWN: Images and graphics in The Black Bat resemble image and graphics in and perhaps the spirit of Batman comic books. However, what writer Brian Buccellato offers is closer to "street level" comic books that Marvel Comics has produced over the years, featuring characters like Daredevil, Moon Knight, and The Punisher. It's vigilante vs. organized crime, and the superhero costume seems extraneous in the moody, urban fiction edge of Buccellato's script.
Artist Ronan Cliquet has a graphic style and visual sense that is perfect for the comics yarn Buccellato spins. Cliquet's compositions and designs are flashy in a Batman mode, but a bit earthier. Once again, crime fiction edges out costumes.
POSSIBLE AUDIENCE: Fans of comics like Daredevil and Moon Knight may want to try The Black Bat.
Rating: 8 /10
Last Updated: September 6, 2021 - 08:15