The Arina Tanemura Collection: The Art of Full Moon
By Leroy Douresseaux
Sep 21, 2008 - 19:02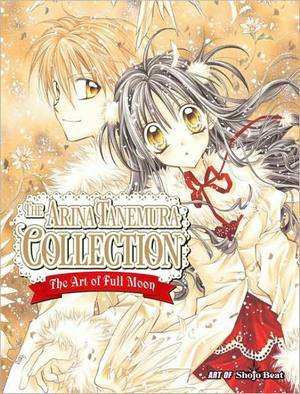 The above cover image courtesy of barnesandnoble.com.
Fans of the textured, layered, ornate, patterned artwork of manga-ka Arina Tanemura will want The Arina Tanemura Collection: The Art of Full Moon in their Christmas stocking, if not sooner. Tanemura has produced such popular series as The Gentlemen's Alliance † and Time Stranger Kyoko. One of her most popular works is the manga, Full Moon wo Sagashite – published in the U.S. as Full Moon.
Full Moon focuses on a preteen girl who dreams of becoming a pop singing sensation, but cancer is derailing her dreams and will take her life in a year. She makes a deal with a shinigami (a character like "Death" from Neil Gaiman's Sandman), in which she is transformed into a healthy 16-year-old. She performs under the name Fullmoon and hopes the boy she loves, who moved away, will rediscover her.
The Arina Tanemura Collection collects the full color illustrations Tanemura produced for Full Moon's serialization in the Japanese manga magazine, Ribon. This includes art for title pages, posters, character cards, next issue previews, etc., but there's more. The Tanemura lover will go into sugar shock with 19 more pages of illustrations from other Tanemura manga like, Short-Tempered Melancholic, I•O•N, Kamikaze Kaito Jeanne, and Time Stranger Kyoko, among others.
The Art of Full Moon has lovely production values. The dust jacket, with its golden hues and gold leaf title, is so eye catching that it summons your attention any time you're in the same vicinity with it. The 8.75" x 11.75" size will also get a buyer's notice. Fans who love Tanemura's art in black and white will savor all these full color illustrations, an eye-popping feast of prettiness.
Last Updated: Jun 26, 2018 - 9:28