Comics / Comic Reviews / More Comics
The Adventures of Nikki Harris #4
By Leroy Douresseaux
Feb 29, 2012 - 8:52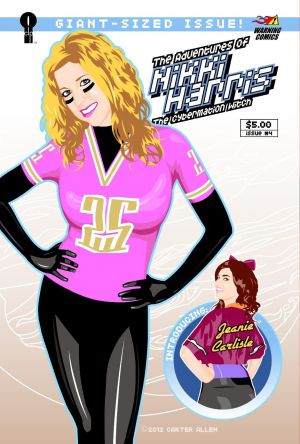 The Adventures of Nikki Harris #4 cover image
After nearly two years since her last comic book, Nikki Harris, the Cybermation Witch, returns. The Adventures of Nikki Harris the Cybermation Witch #4 (entitled "School Daze") finds Nikki returning to her alma mater, Grantham Academy. This college is located in New Paris, a city on Europa, one of Jupiter's moons.
Grantham is considered one of the finest schools devoted to the teaching of Cybermation, and Nikki has been invited to be a visiting professor. Nikki is also reunited with Jeanie Carlisle, the younger sister of Annie Carlisle, Nikki's now-deceased best friend. Not everyone is happy to see Nikki at Grantham, however, as the bitchy Headmistress goes out of her way to antagonize our heroine. There is also something sinister going on at Grantham, and it may be too powerful for even a Cybermation Witch to handle.
Writer/artist Carter Allen produces the images, graphics, and texts that become the art of The Adventures of Nikki Harris comic book digitally. With each issue, I've noticed that the production values and quality of the graphics has improved. This fourth issue is an ice cream fantasia of hot pinks and fluffy cotton candy pinks. Black vinyl reflects white in every direction, and red and gold explode to depict energy blasts.
Like previous issues, The Adventures of Nikki Harris the Cybermation Witch #4 is a self-contained, single-issue story. "School Daze" is pretty much like other Nikki Harris tales, but in this latest issue, the dialogue is sharper, and Allen pays a little more attention to detail. For instance, there is a surprising explanation of "Cybermation" that makes as much sense as most explanations for magic and super powers in other comic books.
This is also a larger than usual issue of The Adventures of Nikki Harris (40 pages instead of the usual 24), and it still seemed too short for me. Hopefully, we won't have to wait another two years before Nikki returns. This quirky, but sparkling sci-fi, super-chick series will grow on you.
A
Visit the CLP store: http://www.candlelightpress.com/shop.htm
Last Updated: Jun 26, 2018 - 9:28