Terra Formars: Volume 9 manga review
By Leroy Douresseaux
November 16, 2015 - 19:28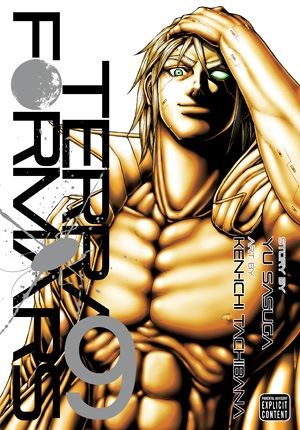 Terra Formars Volume 9 cover image
Rated "M" for "Mature"
In the late 26th century, the overpopulation of the
Earth
reaches the breaking point, and humanity has to find new frontiers to call home. Knowing that this time would come, Earth has been in a centuries-long terraforming process of
Mars
, introducing moss and cockroaches to hasten the transformation. Two missions, Bugs 1 and Bugs 2, travel to Mars to see the results of that terraforming, and what they discover is the horror called
Terraformars
, giant humanoid cockroaches.
The mission to Mars, Annex 1, is crucial to finding a cure for the A.E. Virus currently plaguing Earth. "Emergency Plan Delta," divides the mission into six divisions, which reflects the status on Earth
As
Terra Formars

, Vol. 9
(Chapters 75 to 85) opens,
Akari Hizamaru
and
Michelle K. Davis
face a Terraformar with bullet ant characteristics. When Michelle realizes how that Terraformar got its strength, her battle with it turns very personal. However, both Akari and Michelle will be pushed to their limits.
THE LOWDOWN:
By now, readers are used to the twists and turns taken by the
Terra Formars
manga. Initially, the series looked like a straight horror manga, with the Terraformar monsters tearing humans apart in true monster fashion. However, the science fiction angle in the series really kicked in as the creators delved into the modifications used on the humans sent to Mars.
Terra Formars Volume 9
digs a little into the past and reveals a personal side to the modifications and experimentation. However, the political conflict and conspiracy on both Earth and Mars is quite... well, intriguing. Now, there are two good reasons to read
Terra Formars
– monster madness and political mess.
POSSIBLE AUDIENCE:
Fans of seinen manga and monster comics will want to try the VIZ Signature title,
Terra Formars
.
Rating: A /10
Last Updated: August 31, 2023 - 08:12