Terra Formars: Volume 4 manga review
By Leroy Douresseaux
Jan 21, 2015 - 19:16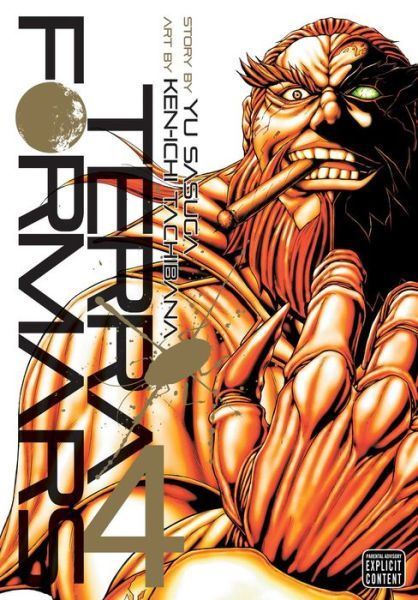 Terra Formars Volume 4 cover image is courtesy of barnesandnoble.com.
Follow me on
Twitter
.
Rated "M" for "Mature"
The overpopulation of Earth reaches the breaking point in the year 2599 AD, so humanity must find new frontiers and a new home. Knowing that this time would come, Earth has been in a centuries-long terraforming process of Mars, introducing moss and cockroaches to hasten the transformation. Two missions, Bugs 1 and Bugs 2, travel to Mars to see the results of that terraforming. What they find is the horror called Terra Formars.
Twenty years after the ill-fated Bugs 2 mission to Mars, the new mission, Annex 1, launched. This mission is crucial to finding a cure for the A.E. Virus, which is currently plaguing Earth. However, during the trip to Mars, the crew discovers that the mutant Terraformars, giant humanoid cockroaches, have infiltrated the Annex 1. Captain Akari Hizamaru initiates "Emergency Plan Delta."
As Terra Formars, Vol. 4 (Chapters 20 to 30) opens, Captain Hizamaru and Captain Michelle K. Davis move to protect their crew mates. They are among the humans who have undergone the "Bugs Procedure," in which DNA from various insects have been sequenced into human cell structure, allowing flexible human flesh and blood to change into that of insects. To put it plainly, they can kick Terraformars butt.
Now, Akari and Michelle use their "Bugs" powers to take on two freaky bugs-type Terraformars, but these creatures have also been altered by other insects – the grasshopper and diving beetle. Meanwhile, the Russian, 51-year-old Sylvester Asimov, uses his Tasmanian King Crab-enhanced body to deliver beat-downs to the monsters of Mars. He also has theories about how cockroaches became Terraformars, and natural selection isn't one of them.
THE LOWDOWN: The Terra Formars manga remains a strange manga, and, as usual, it is full of surprises. Illustrated by Ken-ichi Tachibana and written by Yu Sasuga, the series seems on the verge of revealing a big secret about the Terraformars
In the meantime, Terra Formars Volume 4 is one big festival of bone-crushing and exoskeleton-smashing fights. Plus, every volume offers a few lessons in the wild kingdom, mostly about insects, but the electric eels plays a big part in Vol. 4. See? Terra Formars is "E.I." - educational and informative. I am ready to see what crazy direction this series takes next.
POSSIBLE AUDIENCE: Fans of seinen manga and of weird fiction will want to try the VIZ Signature title, Terra Formars.
Rating: A /10
Last Updated: Jun 26, 2018 - 9:28