Terra Formars: Volume 3 Advanced manga review
By Leroy Douresseaux
November 15, 2014 - 18:44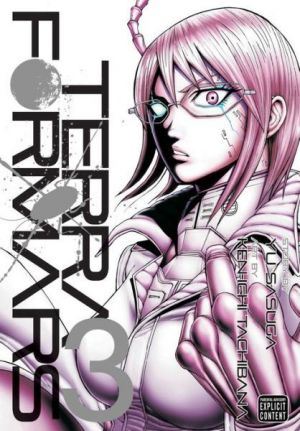 Terra Formars Volume 3 cover image is courtesy of barnesandnoble.com
Follow me on
Twitter
.
Rated "M" for "Mature"
It is in the year 2599 AD that overpopulation on
Earth
reaches the breaking point, and humanity must find new frontiers and a new home. In preparation for this, Earth has been in a centuries-long terraforming process of
Mars
, introducing moss and cockroaches to speed the transformation. Two missions, Bugs 1 and Bugs 2, travel to Mars to see the result of that terraforming. What they find is the horror called
Terra Formars
.
Twenty years after the ill-fated Bugs 2 mission, there is a new mission to Mars,
Annex 1
. This mission is crucial to finding a cure for the
A.E. Virus
which is currently plaguing Earth. As
Terra Formars

, Vol. 3
(Chapters 9 to 19) opens, the mutant Terraformars, giant humanoid cockroaches, have infiltrated the Annex 1.
Captain Akari Hizamaru
initiates "
Emergency Plan Delta
."
The crew divides and escapes in six high-speed escape vehicles. The mission is to get to the surface of Mars and to capture three live specimens of the Terraformars. To survive, the humans will need all the new powers of Captain Hizamaru and
Michelle K. Davis
, both no longer human and a bit more than an insect.
THE LOWDOWN:
The
Terra Formars
manga is a strange manga, and one full of surprises. It gets stranger at least every two of three chapters. Illustrated by
Ken-ichi Tachibana
and written by
Yu Sasuga
, it is a science fiction manga, a horror manga, and a horror of science fiction manga.
Terra Formars Volume 3
makes it clear that the series builds tension on the fact that humans have found a foe that is more than their equal and is shockingly capable of matching wits with them. I don't know where this series is going. It seems as if it is a battle manga, but the goal of the fight is extinction. I think that the intriguing thing is that both the future story lines and finale are a great dark unknown.
POSSIBLE AUDIENCE:
Fans of seinen manga will want to try the VIZ Signature title,
Terra Formars
.
Rating: A /10
Last Updated: August 31, 2023 - 08:12