Terra Formars: Volume 2 Advanced manga review
By Leroy Douresseaux
September 15, 2014 - 15:54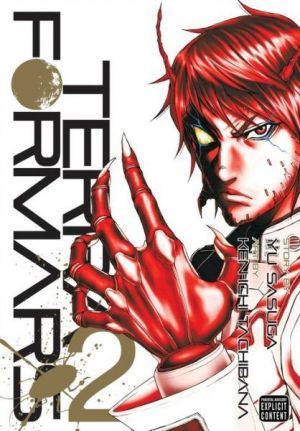 Terra Formars Volume 2 cover image is courtesy of barnesandnoble.com.
Follow me on
Twitter
.
Rated "M" for "Mature"
In the year 2599 AD, overpopulation on Earth has reached the breaking point, and humanity must find new frontiers and a new home. In preparation for this, Earth has been, for centuries, terraforming
Mars
by introducing moss and cockroaches. Two missions, Bugs 1 and Bugs 2, travel to Mars to see the result of that terraforming. What they find is the horror called
Terra Formars
.
Terra Formars

, Vol. 2
(Chapters 1 to 8) opens in the year, 2619, which is 20 years after the ill-fated Bugs 2 mission. Now, there is a new mission,
Annex 1
.
Captain Shokichi Komachi
, chief of
U-NASA
's
Mars Exploration Team
, and his second, Michelle K. Davis, begin recruiting the four officers and 94 crew members that will accompany them on this new mission to Mars.
They start with 20-year-old
Akari Hizamaru
. He was "born after the procedure," and is stronger than normal humans. He uses his abilities to fight in gladiator-like wrestling matches. He needs the prize money from these fights for the surgery that will save fellow orphan,
Yuriko
. Her illness, the
A.E. Virus
, is precisely the reason for the Annex 1 mission. Will Hizamaru agree to join the mission, one he knows that is very dangerous... perhaps more dangerous than anyone realizes?
THE LOWDOWN:
The
Terra Formars
manga is a strange manga. Illustrated by
Ken-ichi Tachibana
and written by
Yu Sasuga
, it is a science fiction horror manga, and it is equally both.
Although I liked Vol. 1, I was a bit hesitant about praising it. After reading
Terra Formars Volume 2
, I am sold on this manga. The character drama can be melodramatic and heavy-handed soap opera. There is a fair amount of political intrigue and conspiracy, although this is uncomplicated. Where
Terra Formars
is really good is the horror on Mars; it can be blood-curdling, and bodies are torn apart with the kind of glee reserved for slasher horror movies. I think readers looking for shocking science fiction manga will want to try
Terra Formars
. I am curious to see where this series goes.
POSSIBLE AUDIENCE:
Fans of seinen science fiction manga will want to try the VIZ Signature title,
Terra Formars
.
Rating: A- /10
Last Updated: August 31, 2023 - 08:12