Comics / Manga / Yaoi Manga
Ten Count: Volume 4 yaoi manga review
By Leroy Douresseaux
June 3, 2017 - 21:41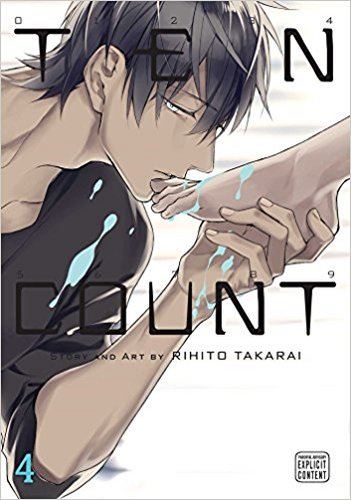 Ten Count Volume 4 cover image
Rated "M" for "Mature"
Ten Count
is a yaoi manga from manga creator,
Rihito Takarai
. Yaoi manga is a subset of boys' love (or BL) manga, which depicts amorous situations between male romantic leads. Yaoi manga usually features explicit depictions of sex between those male leads. Ten Count focuses on the developing relationship between two men,
Tadaomi Shirotani
, a corporate secretary who is a "germaphobe," and
Riku Kurose
, the counselor and clinical psychotherapist who tries to help him.
The truth is that Shirotani cannot resist Kurose's advances. As
Ten Count

, Vol. 4
(Chapters 19 to 24) opens, Shirotani is at the mercy of Kurose and a shapely butt-plug Kurose wields. Although he shivers with pleasure, Shirotani declares that Kurose is disgusting and runs away. His words to Kurose, however, will cost Shirotani and will force him to be real about his feelings concerning Kurose.
[This volume includes the Ten Count bonus stories, "Kurose, Shirotani, and Thumb Wrestling," "Kurose, Shirotani, and Silky Sensations," and "Kurose, a White Cat and a Can of Tuna."]

THE LOWDOWN:
In my review of the first volume of the
Ten Count
manga, I wrote that it was okay that there was no sex in the first six chapters of Ten Count. Sometimes, even yaoi manga is good at quietly building romance over a slow simmer of a narrative, but by the sexual... I mean... second volume of this series, it was on like rough-sex Donkey Kong.
Ten Count Volume 4
is one of the most intensely sexual comic books that I have ever read, just as was the case with Vol. 2. [I did not read Vol. 3.] Creator Rihito Takarai surprised me by how she made masturbation seem as sweet as a first kiss in Vol. 2. In Vol. 4, she spreads Shirotani's butt cheeks and reveals the anus and puts the Oh! in Ohio. Her romantic lead cannot get enough of the pleasure that he derives from objects and digits being inserted into his bunghole (with a nod to President Lyndon B. Johnson).
Still, the pure, heartfelt romance remains. From the beginning, I thought that Ten Count was an odd yaoi manga considering the profession of one lead and the condition of the other. However, disorders and jobs aside, Ten Count is a love story, and I want a happy ending.
I READS YOU RECOMMENDS:
Readers who want heartfelt romance and some down-and-dirty sex play will want to try
Ten Count
.
A
Rating: A /10
Last Updated: September 6, 2021 - 08:15