Comics / Manga / Yaoi Manga
Ten Count: Volume 2 yaoi manga review
By Leroy Douresseaux
November 27, 2016 - 21:15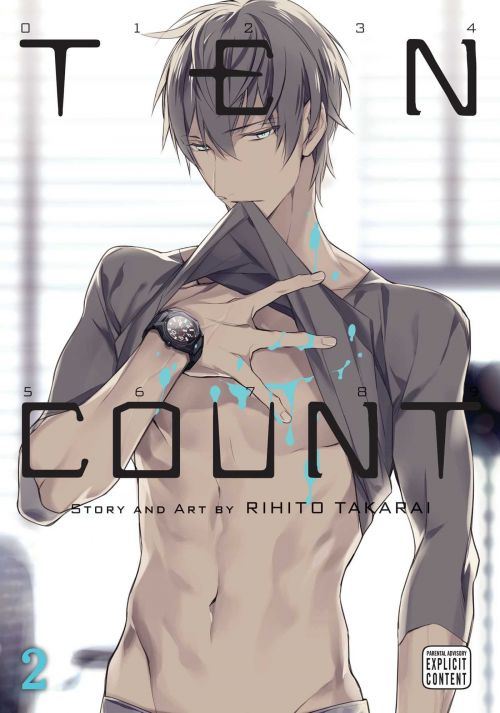 Ten Count Volume 2 cover image
Rated "M" for "Mature"
Ten Count
is a yaoi manga from manga creator,
Rihito Takarai
. Yaoi manga is a subset of boys' love (or BL) manga, which depicts amorous situations between male romantic leads. Yaoi manga usually features explicit depictions of sex between those male leads. Ten Count focuses on the developing relationship between two men,
Tadaomi Shirotani
, a corporate secretary who is a germaphobe, and
Riku Kurose
, the counselor and clinical psychotherapist who tries to help him.
Shirotani was opening his heart to Kurose, and the latter's 10-step program was helping the former. Then, Kurose told Shirotani that their sessions were over. As
Ten Count

, Vol. 2
(Chapters 7 to 12) opens, both are dealing with the repercussions of Kurose's decision. In a state of shock, Shirotani has withdrawn into his home and refuses to leave – even for work. When Kurose texts him and asks to see him, Shirotani will discover the secrets behind Kurose's actions.
[This volume includes the Ten Count bonus stories, "Kurose, Shirotani, and Clothing" and "Kurose, Shirotani, and (If There Were) Honorifics."]
THE LOWDOWN:
I wrote in my review of the first volume that it was okay that there was no sex in the first six chapters of
Ten Count
. Sometimes, even yaoi manga is good at quietly building romance over a slow simmer of narrative.
That said,
Ten Count Volume 2
is one of the most intensely sexual comic books that I have ever read. I can say that creator Rihito Takarai surprises me by how she makes masturbation seem as sweet as a first kiss. This kind of true romance will leave the reader breathless. Still, the relationship between Shirotani and Kurose remains a fragile thing, intense orgasms aside. The simmering will continue in future chapters of
Ten Count
, which I highly recommend.
I READS YOU RECOMMENDS:
Readers who want heartfelt romance with some torrid love play will want to try
Ten Count
and a cold shower.
A+
Rating: A+ /10
Last Updated: September 6, 2021 - 08:15