Tegami Bachi: Volume 19 manga review
By Leroy Douresseaux
June 9, 2016 - 15:15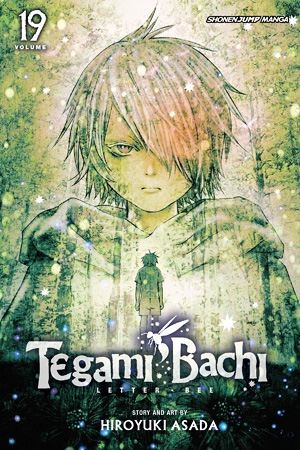 Tegami Bachi Volume 19 cover image
Rated "T" for "Teen"
Only a man-made star casts a dim light over the land that is the country of
Amberground
, which is locked in darkness.
Gaichuu
, giant insects with metal exoskeletons, infest the forests between the cities and towns of Amberground, which makes travel dangerous. There is a brave corps of messengers, known as the
Letter Bees
, risking life and limb to deliver letters and packages to the cities.
Lag Seeing
is a Letter Bee, traveling with his dingo,
Niche
(and her dog-thing,
Steak
).
As
Tegami Bachi: Letter Bee

, Vol. 19
(
Akatsuki
– entitled Chapters 85 to 91) opens, Lag Seeing returns from his training in Sir-etok. Lag seems stronger than ever, with new found strengths and abilities. However, Lag's friend and fellow Bee,
Zazie
, sees the new "Lag" as someone not worthy of trust.
Lag joins the Bees on a journey to
Eastern Yuusari
, where they must battle a horde of Gaichuu at the inlet known as "
Waltz for Debby
." Here, the Bees will decide who will head to
Akatsuki
, the capitol of Amberground. Chico Neige, the contrary young woman who was once Lag's partner, is determined that she be the one to undertake this mission.
THE LOWDOWN: As the
Tegami Bachi: Letter Bee
manga moves deeper into the conspiracy at the center of the series, the narrative grows increasingly stronger. The story has always spanned time, reaching far into the past; something that will likely have serious repercussions for the future. That is good for us, the readers, as
Tegami Bachi
is in the midst of a high-quality run of issues.
Tegami Bachi: Letter Bee Volume 19
presents a growth spurt for Lag Seeing, in terms of personality and motivation. Series creator,
Hiroyuki Asada
, has been quiet and subtle about the evolution of Lag, but now, the hero in Lag Seeing has almost fully emerged. As with previous volumes, the last pages of Vol. 19 offers a reason to come back for the next volume. And as I've said before, like a
Letter Bee, Tegami Bachi
delivers.
POSSIBLE AUDIENCE:
Anyone looking for a good alternate world science fiction comic book will want the Shonen Jump title,
Tegami Bachi: Letter Bee
.
A
Rating: A /10
Last Updated: August 31, 2023 - 08:12