Tegami Bachi: Volume 15 manga review
By Leroy Douresseaux
November 18, 2013 - 13:31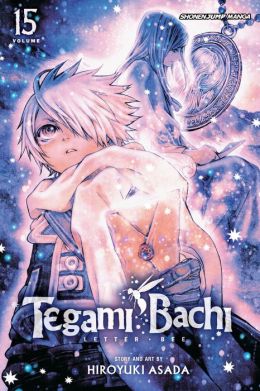 Tegami Bachi Volume 15 cover image is courtesy of barnesandnoble.com.
Rated "T" for "Teen"
Amberground is a country locked in darkness, with only a man-made star to cast a dim light over the land. Gaichuu, the giant insects with metal exoskeletons that infest the forests between the cities and towns of Amberground, make travel dangerous. A brave corps of messengers, known as the Letter Bees, risk life and limb to deliver letters and packages to the cities. Letter Bees keep Amberground connected, but has a rival in the anti-government group Reverse. Lag Seeing is a Letter Bee, traveling with his dingo, Niche (and her dog-thing, Steak).
In Tegami Bachi: Letter Bee, Vol. 15 (To the Little People – Chapters 60 to 64), a gathering at the Beehive discusses the information that they have recently uncovered. They now know that Amberground's sun is made of the hearts of people who entered the capitol city of Akatsuki. They know that Amberground exists for the sake of the Empress and the heads of the government. They have learned of Kagerou, a secret district that is located between the capitol and Yuusari. It is a dumping ground for people that have been the subjects of bizarre experiments.
Lag Seeing returns to his home, the little town of Cambel (Cambellitus). Roda, the dingo of Lag's role model, the former Letter Bee, Gauche Suede, accompanies Lag, along with Niche and Steak. There, Lag is reunited with Aunt Sabrina Mary, the woman who cared for him after his mother, Anne, was taken away by strange men. Now, with a letter from his mother in his hands, Lag is going to get a lot of answers.
THE LOWDOWN: Clearly, Hiroyuki Asada, creator of the Tegami Bachi: Letter Bee manga, can create epic battles with the best shonen mangaka. His true talent, however, is in creating rich character drama, deeply involved intrigue, and compelling science fiction mystery-slash-conspiracy.
Tegami Bachi: Letter Bee Volume 15 is packed with all three, and, as always, it is a tremendous read. This is not the best volume for new readers, but for veteran Letter Bees, Vol. 15 is a love letter full of revelations. Every time I think that this manga is playing it safe, it takes a surprising turn that makes sense in the context of the narrative.
POSSIBLE AUDIENCE: Anyone looking for a good alternate world science fiction comic book will want the Shonen Jump title, Tegami Bachi: Letter Bee.
Rating: A /10
Last Updated: August 31, 2023 - 08:12