Tegami Bachi: Volume 14 manga review
By Leroy Douresseaux
August 9, 2013 - 11:37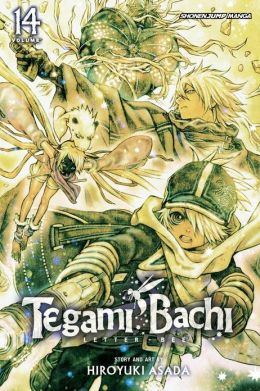 Tegami Bachi: Volume 14 cover image is courtesy of barnesandnoble.com.
Rated "T" for "Teen"
A man-made star casts a dim light over Amberground, a country locked in darkness. Gaichuu, giant insects with metal exoskeletons, infest the forests between the cities and towns of Amberground, making travel dangerous. A brave corps of messengers, known as the Letter Bees, risk life and limb to deliver letters and packages to the cities. Letter Bees keep Amberground connected, but has a rival in the anti-government group Reverse. Lag Seeing is a Letter Bee, traveling with his dingo, Niche (and her dog-thing, Steak).
As Tegami Bachi: Letter Bee, Vol. 14 (A Letter from Mother – Chapters 55 to 59) opens, Bees, ex-Bees, and Beehive staff gather on the hills above Yuusari, the capitol city. They have assembled to battle Cabernet, the giant Gaichuu. Lag Seeing and his comrades pour their hearts into their attacks, but they must also face a mass invasion of Gaichuu.
Even Niche takes on Cabernet, but the battle does something to her young body. The battle also brings about some surprising reappearances by beloved characters. Lag also travels into the dreams of a returnee.
THE LOWDOWN: The creator of the Tegami Bachi: Letter Bee manga, Hiroyuki Asada, can create epic battles with the best shonen mangaka. His manga is a high-quality science fiction and alternate world comic book, drawing strength from its character drama.
Asada, however, also makes room for plenty of fantasy action violence, but not just for effect. The battles are a way to communicate the bonds of fellowship that hold this narrative together. The notion of "heart" is important because the heart is not alone, and Tegami Bachi: Letter Bee Volume 14 brings out the best of what is most interesting in this series' high-quality ensemble cast.
POSSIBLE AUDIENCE: Anyone looking for a good science fiction comic book will not go wrong with the Shonen Jump title, Tegami Bachi: Letter Bee.
Rating: A /10
Last Updated: August 31, 2023 - 08:12