Tegami Bachi: Volume 12 manga review
By Leroy Douresseaux
January 30, 2013 - 17:00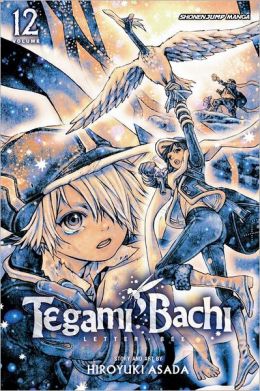 Tegami Bachi Volume 12 cover image is courtesy of barnesandnoble.com.
Rated "T" for "Teen"
A man-made star casts a dim light over the land of Amberground, a country locked in darkness. Gaichuu, giant insects with metal exoskeletons, infest the forests between the cities and towns of Amberground, making travel between the various cities dangerous. The Letter Bees are a brave corps of messengers, risking life and limb to deliver letters and packages to the cities. They keep Amberground connected, but they have a rival in Reverse, the anti-government group. Lag Seeing is a Letter Bee, traveling with his dingo, Niche (and her dog-thing, Steak).
As Tegami Bachi: Letter Bee, Vol. 12 (Child of Light – Chapters 45 to 49) opens, the Letter Bees form an army to stop the ferocious, flying Gaichuu called Cabernet from reaching Akatsuki, the capitol of Amberground. Meanwhile, Largo Lloyd, former Director of Beehive, reaches out to Reverse.
Lag's reputation as the "Child of Light" grows. As the Bees prepare to battle Cabernet, Acting Director Garrard sends Lag to Riverside Jet Canyon with a novice Bee, Lily Confort, and her bird dingo, Sawan. Lag's reputation won't help him in the coming battle with Cabernet or with the dark secret he has carries about his former hero and the man who inspired him to be a Bee, Gauche Suede.
THE LOWDOWN: The Tegami Bachi: Letter Bee manga is mostly a science fiction and alternate world character drama. It is sometimes, however, a battle manga, and Tegami Bachi: Letter Bee Volume 12 centers on the showdown between the Bees and Cabernet. Surprises abound, as series' lead and hero, Lag Seeing, must share the spotlight, which swerves from one Bee to another.
Creator Hiroyuki Asada only hints at the internal mythology in the section of the narrative that makes up this volume. Instead, he offers a Wild West face-off between Bee and Gaichuu, on several battlefronts. As always, though, he peeks into the personal dramas of all – if only a little this time around.
POSSIBLE AUDIENCE: Anyone looking for a good science fiction comic book will not go wrong with the Shonen Jump title, Tegami Bachi: Letter Bee.
Rating: A /10
Last Updated: August 31, 2023 - 08:12