Tegami Bachi: Volume 11 manga review
By Leroy Douresseaux
November 2, 2012 - 17:27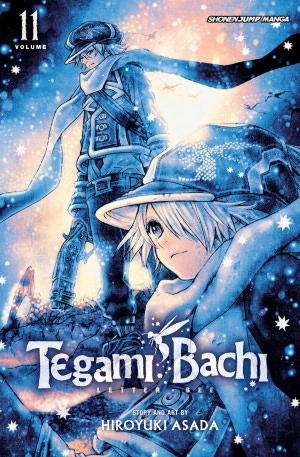 Tegami Bachi Volume 11 cover image is courtesy of barnesandnoble.com.
Rated "T" for "Teen"
Amberground is a country locked in darkness. A man-made star casts a dim light over the land. Gaichuu, giant insects with metal exoskeletons, infest the forests between the cities and towns of Amberground, making travel between the various cities dangerous. The Letter Bees are a brave corps of messengers, risking life and limb to deliver letters and packages to the cities. They keep Amberground connected. Lag Seeing is a Letter Bee, traveling with his dingo, Niche (and her dog-thing, Steak).
As Tegami Bachi: Letter Bee, Vol. 11 (A Bee's Bag) opens, Largo Lloyd, recently ousted director of the Letter Bees, begins a quest to find Lawrence, the leader of Reverse, the anti-government group. Lag finally found Gauche, the Letter Bee who was his inspiration to become a Bee. Gauche Suede had joined Reverse and became the Marauder known as "Noir." Now, Lag reunites the seemingly rehabilitated Gauche with his wheelchair-bound, young sister, Sylvette Suede.
Meanwhile, a group of Letter Bees are trying to stop the winged Gaichuu, Cabernet, from reaching the capitol city. Are the team-ups of Jiggy Pepper-Zazie and Aria Link-Moc Sullivan enough to stop the creature?
THE LOWDOWN: Having missed the tenth volume, I wondered if I would be lost trying to read Volume 11 of the Tegami Bachi: Letter Bee manga. That didn't matter, because missing a volume isn't important when the high-quality that I enjoyed with Volume 9 remains with the latest edition. The internal mythology is still interesting, and the conspiracies and intrigue never fail to engage.
Still, the unknown at the heart of this series: Amberground's government, how it operates, and who is in control, remains an enigma, with a few exceptions. It's time for creator Hiroyuki Asada to move this narrative by one big leap.
POSSIBLE AUDIENCE: Anyone looking for a good science fiction comic book to give to a young reader (male or female) will not go wrong with Tegami Bachi: Letter Bee.
Rating: B+ /10
Last Updated: August 31, 2023 - 08:12