Tegami Bachi: Volume 9
By Leroy Douresseaux
April 30, 2012 - 15:20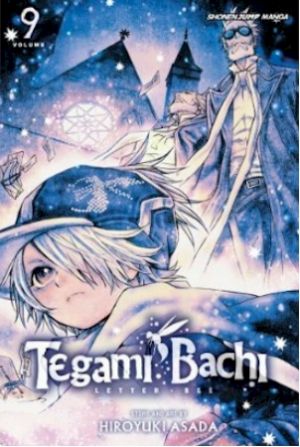 Tegami Bachi Volume 9 cover image is courtesy of Anime Castle Books.
Rated "T" for Teen
With only a man-made star to cast a dim light over the land, Amberground is a country locked in darkness. Gaichuu are giant insects with metal exoskeletons, and they infest the forests between the cities and towns, making travel between the various cities of Amberground dangerous. The Letter Bees are a brave corps of messengers, risking life and limb to deliver letters and packages to the cities. They keep Amberground connected. Lag Seeing is a Letter Bee, traveling with his dingo, Niche (and her dog-thing, Steak).
As Tegami Bachi: Letter Bee, Vol. 9 (The Dead Letter Office) opens, Lag arrives at The Beehive, the headquarters of the National Postal Service in Central Yuusari. Lag has returned from the town of Lament, where he found his mentor, Gauche Suede. Gauche is now "Marauder Noir," and he is a member of Reverse, the anti-government group. However, Chalybs Garrard and Hazel Valentine, two inspectors from the capitol, have arrived, and they plan on taking Gauche back with them.
Plus, Lag ends up in the "Dead Letter Office," and his first job is to deliver 240 undelivered letters that belong to the same recipient. The young man has previously refused to accept the letters, and Lag discovers that he still doesn't want them.
THE LOWDOWN: The Tegami Bachi: Letter Bee manga has an interesting internal mythology. The Letter Bees vs. Reverse storyline is engaging and full of conspiracies and intrigue. The heart of this series, however, is about the letters, and each one represents the heart of the sender. Each delivery is a story, and creator Hiroyuki Asada has made almost everyone one of these stories a powerful and poignant mini-drama. The chapters, "The Dead Letter Office" and "Love Like Stone," form one excellent love story. The heart will go on, indeed.
POSSIBLE AUDIENCE: Anyone looking for a good science fiction comic book to give to a young reader (male or female) will not go wrong with Tegami Bachi: Letter Bee.
A-
Last Updated: August 31, 2023 - 08:12