Tegami Bachi: Volume 8
By Leroy Douresseaux
January 29, 2012 - 13:37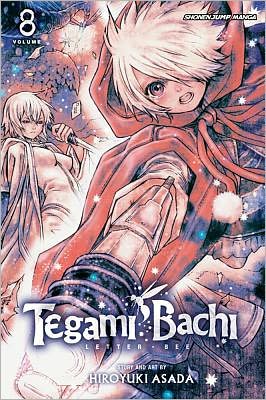 Tegami Bachi Volume 8 cover image is courtesy of barnesandnoble.com.
Rated "T" for "Teen"
Amberground is a country locked in darkness, with only a man-made star to cast a dim light over the land. Travel to the various cities of Amberground is made dangerous because of the Gaichuu, which are giant insects with metal exoskeletons that infest the forests between the cities and towns. The Letter Bees are a brave corps of messengers, risking life and limb to deliver letters and packages to the cities. They keep Amberground connected. Lag Seeing is a new Letter Bee, traveling with his dingo, Niche (and her dog-thing, Steak).
In Tegami Bachi: Letter Bee, Vol. 8 (Light Shining Upon Darkness), Lag arrives in the town of Lament. There, at the Verity Convent, he accidentally discovers a conspiracy involving the anti-government group, Reverse. The nuns are stealing Letter Bee mail and packages! Lag also finally catches up with his mentor, Gauche Suede, now thrown in with Reverse and known as "Marauder Noir." Can Lag get Gauche back?
THE LOWDOWN: In most volumes of the Tegami Bachi: Letter Bee manga, the drama comes from the conflict in which Lag Seeing finds himself because of his job. It's man vs. nature, man vs. man, and sometimes man vs. himself. However, the Tegami Bachi manga now has a worthy adversary in Reverse, the anti-government where the Bees are pro. Not only will this pit the (perceived) good of the Letter Bees vs. the (assumed) evil of Reverse, but this will also introduce more conspiracy into the series. In fact, this volume introduces more questions about Amberground's government.
If this sounds as if too much is happening for a new reader to jump on, do not worry. Every volume of Tegami Bachi is welcoming to new readers. Not only is there a summary at the beginning of each volume, but the plots, characters, and settings are easy to grasp, and you should grasp this book.
POSSIBLE AUDIENCE: Anyone looking for a good science fiction comic book to give to a young reader will not go wrong with Tegami Bachi: Letter Bee.
A-

Last Updated: August 31, 2023 - 08:12