Tegami Bachi: Volume 7
By Leroy Douresseaux
October 27, 2011 - 09:33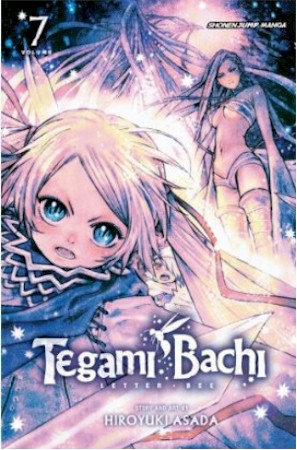 Tegami Bachi Volume 7 cover image is courtesy of Anime Castle Books.
Rated "T" for "Teen"
A country locked in darkness, Amberground has only a man-made star to cast a dim light over the land. Travel to the various cities of Amberground is made dangerous by the Gaichuu – giant insects with metal exoskeletons that infest the forests between the cities and towns. A brave corps of messengers, the Letter Bees, risks life and limb delivering letters and packages to the cities and keeping Amberground connected. Lag Seeing is a new Letter Bee, traveling with his dingo, Niche (and her dog-thing, Steak).
In Tegami Bachi: Letter Bee, Vol. 7 (Blue Notes Blues), Lag travels to the frozen town of Blue Notes Blues. There, he discovers the origin of Niche and meets a surprising family member. Meanwhile, someone is stealing the mail in small towns, and the culprit may be Lag's mentor, Gauche Suede, now known as "Marauder Noir."
THE LOWDOWN: I've said that I once thought that Tegami Bachi would end up in a rut, but even your friendly (Internet) neighborhood comic book reviewer (supreme) can be wrong (OK, let's use that word). The more creator Hiroyuki Asada reveals about this world the more I want to know – the more interesting it becomes. Sometimes, the emotions are a little strong and the sentiment can be diabetes-attracting, but this series about the heart is from the heart. And it's a good read.
POSSIBLE AUDIENCE: Anyone looking for a good science fiction comic book to give to a young reader will not go wrong with Tegami Bachi: Letter Bee.
A-
Last Updated: August 31, 2023 - 08:12