Comics / Manga / Yaoi Manga
Yaya Sakuragi's Tea for Two: Volume 1 (Yaoi)
By Leroy Douresseaux
Jun 2, 2008 - 9:37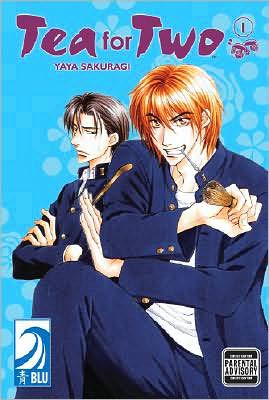 Thanks to barnesandnoble.com for this cover image of Tea for Two 1
Rated "M" for "Mature"
Madoka Tokumaru is so clumsy that his sister, Nagomi, is determined to teach him some self-control and grace. She forces him to help out and take lessons at the Tea Ceremony Club. Although he hesitates at first, club president, Kazuma Hasune takes on the new employee/pupil. Composed and cool, Hasune is the exact opposite of the young baseball playing stud, Tokumaru, but Hasune finds himself having strong passionate feelings for his pupil. If the two can bridge their differences, love will bloom, but does Tokumaru want that?
THE LOWDOWN: Tea for Two, Vol. 1 is an amusing romantic comedy built more on pleasing characters than explicit sex, although as a yaoi manga, Tea for Two has at least one extended sex scene. Kazuma Hasune's too-cool demeanor actually makes him intriguing, while the fiery young jock, Madoka Tokumaru adds exuberance and spontaneity to the story. Kazuma's annoying friend, Keigo, also adds much fun to this, so hopefully, he plays an even bigger part as the story continues.
POSSIBLE AUDIENCE: Audiences looking for light-hearted fun will find it in this light romantic comedy.
B
Last Updated: Jun 26, 2018 - 9:28