Comics / Manga / Yaoi Manga
Takumi-Kun Series: Volume 1: June Pride
By Leroy Douresseaux
Sep 18, 2007 - 12:02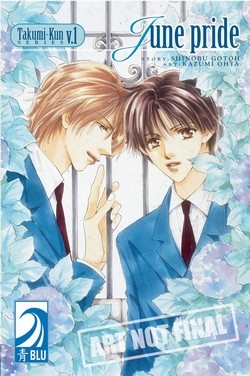 The above image is pretty close to being what the final cover looks like.
Takumi-Kun Series is a book series written by
Shinobu Gotoh
with illustrations by
Kazumi Ohya
. The same team turned the books into manga, and
Takumi-Kun Series Vol. 1: June Pride
is the first English-language edition of the manga.
The series focuses on title character Takumi Hayama, a high school-age boy. The tragic situation of his family life has scarred Takumi. He's afraid to get close to anyone – something he calls "human contact phobia," and he's also been diagnosed as having emotional problems. As June Pride opens, Takumi is entering his 2nd Year at Shidou Academy, a secluded boys' boarding school nestled high in the mountains.
His new roommate, Giichi Saki, known to everyone as "Gui," is showing romantic interest in Takumi, which causes jealousy amongst the other boys. Both Gui and Takumi are objects of desire, and other students are constantly making plays for Takumi, Gui, or both. Takumi can't appreciate any of it because he doesn't believe he deserves to be loved, but Gui plans on showing him otherwise.
THE LOWDOWN: June Pride is purely a traditional romance comic – the boy pursues girl variety, or in this case, boy pursues boy. This is a "BL" (boys' love) comic with a story right out of a romance novel – slightly steamy with more courting than bumping and grinding.
POSSIBLE AUDIENCE: With its emphasis on melodrama and the characters' dark personal secrets, June Pride is more like a soap opera than "BL," and there are more squabbles amongst the male student body than there is sex. So those who want more shounen-ai than yaoi will find it here.
B
Last Updated: Jun 26, 2018 - 9:28