Takane & Hana: Volume 2 manga review
By Leroy Douresseaux
April 22, 2018 - 23:17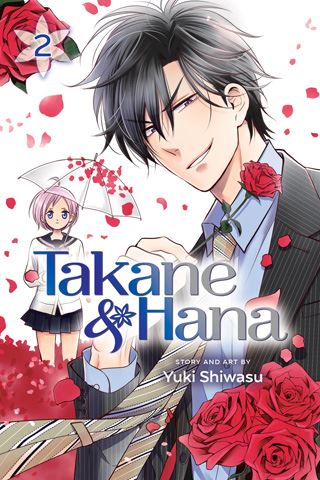 Takane and Hana Graphic Novel Volume 2 cover image
Rated "T" for "Teen"
Hana Nonomura
is 16-years-old, and she is about to meet a man who should not be her husband. Why? Her 23-year-old sister,
Yukari
, refused to go to an arranged marriage meeting with 26-year-old
Takane Saibara
, the heir to a vast business fortune. Hana and Yukari's father works for the company owned by Takane's family. Fearing that he might lose his job because of Yukari's refusal, their father convinces Hana to be Yukari's stand-in and save face for their family.
In
Takane & Hana

, Vol. 2
(Chapters 5 to 10),
Chairman Souten Takaba
hits a hole-in-one in golf and decides to throw a party. He invites his grandson Takane's girlfriend, Hana, who he thinks is her sister, Yukari. But Hana has never been to such a party, and now, she needs Yukari's help to find the right dress and what-not. However, getting dressed isn't the only problem Hana will face, as quite a few people at the party think that she looks too young to be Takane's girlfriend! Next, Hana meets a strange young man,
Nicola Luciano
, who claims to known Takane.
[This volume includes a bonus story, "The Second-Best Theater in the World."]
THE LOWDOWN:
The Takane & Hana manga is a high school shojo romance of a familiar variety. Sure, one of the star-crossed lovers is ten years older than the other, but readers will recognize the usual elements of young shojo manga in love.
Takane & Hana Graphic Novel Volume 2
seems like more of the same – bickering and arguments. Hana thinks that maybe it is best if she end their "relationship," but Takane really can't let go; neither can Hana, really. This volume really takes off when a new character is introduced. Enter Nicola Luciano, and instantly, the narrative explodes with a hundred shojo sparkles.
After reading the first volume, I thought that creator
Yuki Shiwasu
promised that more fun was coming. It just arrived in the form of Luciano.
I READS YOU RECOMMENDS:
Fans of teen shojo manga will want to read the Shojo Beat title,
Takane & Hana
.
A-
7.5 out of 10
Rating: 7.5 /10
Last Updated: May 19, 2020 - 12:25