Takane & Hana: Volume 1 manga review

By Leroy Douresseaux
February 12, 2018 - 15:32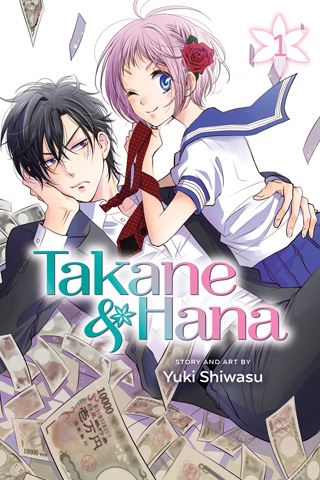 Takane & Hana Graphic Novel Volume 1 cover image
Rated "T" for "Teen"
Hana Nonomura
is 16-years-old, and she is about to meet a man who could be her husband. Why? Her 23-year-old sister,
Yukari
, has refused to go to an arranged marriage meeting with 26-year-old
Takane Saibara
, the heir to a vast business fortune. Hana and Yukari's father works for the company owned by Takane's family. Fearing that he might lose his job because of Yukari's refusal, their father convinces Hana to be Yukari's stand-in and save face for their family.
As
Takane & Hana

, Vol. 1
(Chapters 1 to 4) opens, Hana is sitting with her father in the room where the arranged marriage meeting is to be held, but the perspective groom, Takane, heir to the
Takaba Group
, is a no-show. When he does finally arrive, Takane proves to be snobby and condescending, but he is about to discover that Hana may still be in high school, but she is no push-over
[This volume includes a bonus story, "Takane & Hana & Jr.," an afterword, unpublished scene, and character introductions.]
THE LOWDOWN:
The Takane & Hana manga is a high school shojo romance in which one of the star-crossed lovers is ten years older than the other. Still, readers will recognize the familiar tropes of young shojo manga in love
Takane & Hana Graphic Novel Volume 1
is a manga narrative feeling its way in its early chapters. These first four chapters don't equal exceptional material, but Takane & Hana has potential. All it needs is a third character (or more) to come between the lead characters. What creator Yuki Shiwasu offers here promises that more fun is coming.
I READS YOU RECOMMENDS:
Fans of teen shojo manga will want to read the Shojo Beat title,
Takane & Hana
.

B+
7.5 out of 10
Rating: 7 /10
Last Updated: May 19, 2020 - 12:25