Switch: Volume 6 manga review
By Leroy Douresseaux
May 23, 2015 - 13:20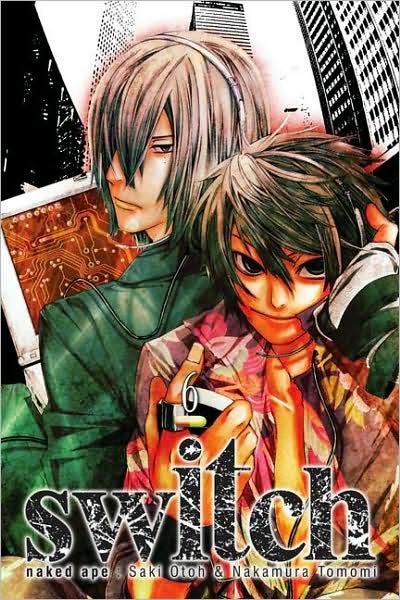 Switch Volume 6 cover image is courtesy of barnesandnoble.com.
Follow me on
Twitter
.
Rated "T+" for "Older Teen"
He looks like a squeaky-clean kid, but
Kai Eto
is a new narcotics investigator hiding a violent alter ego and a dark past. Kai's partner is another young investigator, the stoic
Hal Kurabayashi
, and they work for the
Greater Kanto Narcotics Squad Division
. Together, they track down and try to stop the distribution of a dangerous new drug –
Dragon Speed
.
As
Switch

, Vol. 6
(Chapters 23 to 26) opens, Hal barely survives an assassination attempt, but perhaps, he was not the intended target. Clues point to "
switch
," something that may allow people to switch identities. Trying to solve the mystery of "switch," Kai and Hal unravel a code that gives them the "
alive list
." But is that really an important list?
Meanwhile,
Shingo Tsuyuki
and
Isobe
, two fellow investigators, join the "Ryugen case," but one of them is compromised. Kai discovers a boy who may hold the secret to his past, as the mystery of the drug ring, "
Ryugen
" becomes more complicated and complex than anyone expected. Plus, the side of Kai that is a cold-blooded, killing machine threatens take over him.
[The volume includes "Early Days" and a bonus feature.]
THE LOWDOWN:
I first read the
Switch
manga back in early 2008 when my VIZ Media representative sent me a copy of the series.
Switch
was created by manga-ka,
naked ape
, the pen name used by the team of writer
Saki Otoh
and artist
Nakamura Tomomi
.
Switch
has long since concluded, and VIZ Media released the final graphic novel in its publication of the series several years ago. However, I found a copy of
Switch Volume 6
in a box and decided to revisit the series.
Switch
was stylish and violent, a true crime comic book, filled with gritty narcotics investigators and vicious, but mysterious villains. Nakamura Tomomi seemingly wanted his art to be crazy, sex, cool, but the composition was awkward and the graphical storytelling was often unclear. Still,
Switch
read with a wild and dangerous vibe that made it attractive, even when the overall narrative was inconsistent. I have to admit that I am curious: what was "switch" and what was the mystery of Kai's memory.
POSSIBLE AUDIENCE:
Fans of Japanese crime fiction featuring street detectives will want to give
Switch
a try.
Last Updated: September 6, 2021 - 08:15