Switch: Volume 3
By Leroy Douresseaux
July 1, 2008 - 11:22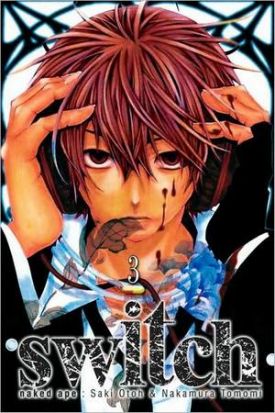 Thanks to barnesandnoble.com for the image to Switch 3
Rated "T+" for "Older Teen"
Although Kai Eto looks squeaky clean, this new narcotics investigator hides a violent alter ego and a dark past. He joins another young investigator, the stoic Hal Kurabayashi, and together, they work for the Greater Kanto Narcotics Squad Division.
In Switch, Vol. 3, Kai continues his undercover investigation at Teito Academy. Working under the alias of student, Tatsuya Kanai, Kai is investigating the production and distribution of a drug called "MP." The MP Gang is violent and has apparently just murdered another student named Kanai. The coincidence of having two students named "Kanai" catches the interest of MP leader, Kyo Otsuka, who demands his surrogates dig until they find something in Tatsuya Kanai's past, which seems to be nonexistent. Meanwhile, Kyo's strange relationship with his twin brother Uki turns bizarre and repercussions spread throughout the school.
Next in line, Kai fills in for an absent officer at the Intelligence Section and encounters a peculiar phone caller with an even stranger tip.
THE LOWDOWN: The chapters in this third volume of Switch show remarkable thematic improvement over previous chapters. The characterization is richer, with the manga-ka (creator) team of Naked Ape (Saki Otoh & Nakamura Tomomi) trying a more complex psychological approach to portraying both the cops and the criminals. The Teito Academy investigation storyline is so dark and ugly, with such emotionally damaged, but engaging characters that it's hard to stop reading.
Naked Ape, however, are still at a point where the art focuses on being stylish and cinematic to the detriment of the narrative. Still, there's something wild and dangerous about both the style and the composition within the panels that is interesting.
POSSIBLE AUDIENCE: Fans of stylish and unusual crime films will like this.
B+
Last Updated: September 6, 2021 - 08:15